Delaying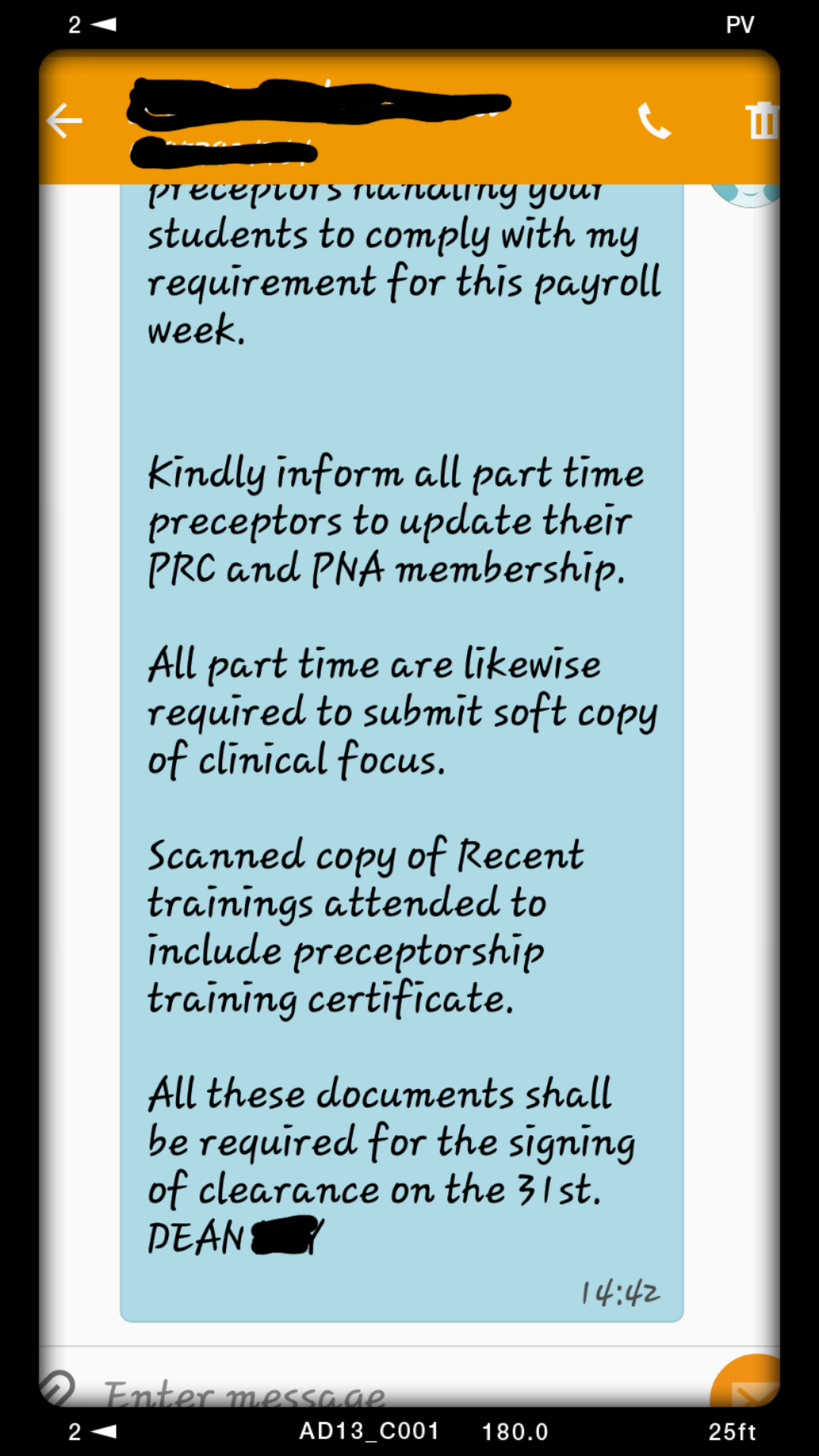 Philippines
February 1, 2018 9:33pm CST
Yesterday morning I asked ma'am Cata if she is going to school to get her salary. She volunteered to get mine too. Then she asked me if I received a text message. When I responded NO, she forwarded me this text message, sent by a number unknown to her. I was disappointed because the text should still be forwarded to all preceptors but it was only to ma'am Cata that it was sent. Besides it should be sent a week before the 31st of January. I went to the hospital at 2PM yesterday to scan my documents. No preceptorship certificate and PNA card yet because of the unavailability of the personnel. Would this mean we are not yet allowed to get our salaries? The problem with our dean is he gives directives a day after the salary day and that makes us all infuriated. Is this a delaying tactic?
4 responses


• Philippines
3 Feb
the text message came from a full time male colleague Sir AFR, the one who was the subject of a few of my discussions. according to him, the text message was sent to him on the morning of February 1st.

• Switzerland
3 Feb
@ridingbet
I hope you have received your salary by now.

• Philippines
3 Feb
@LadyDuck
i went to the city proper and i got it now. thanks God, we were deducted only 8% now, and P400 was deducted again for my PNA (Philippine Nurses Association) card.


• Philippines
3 Feb
it was, but still he signed our clearance slips when Miss Cata paid for my PNA card.


• Philippines
3 Feb
yes, hija, i will go to the city proper to get m,y pay from Miss Cata

• Davao, Philippines
4 Feb
@ridingbet
I see I hope you will get it, my friend.

• Philippines
2 Feb
Are you sure that you're getting it from the right person? You need to check more if the person is legitimate. I would understand if your angry, you need that money and they're delaying it.

• Philippines
3 Feb
i was disappointed to the one who sent the text message to Miss cata but i am fully trusting to Miss cata that my salary will be released. true, i will get my pay an hour later, in the city proper

• Philippines
4 Feb