Mr. Striper The Elusive Cat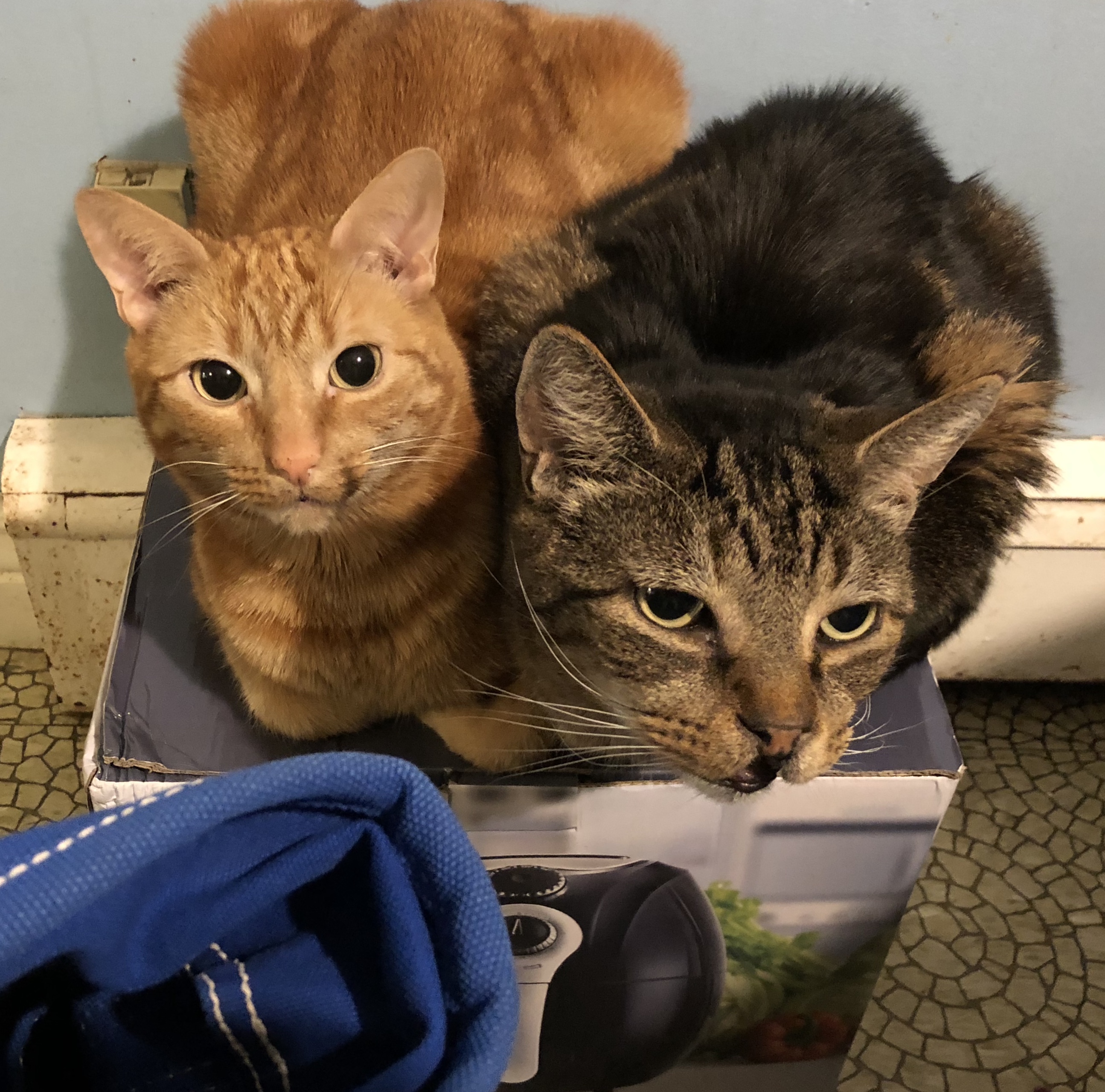 United States
February 5, 2018 6:41pm CST
The cat on the right is known as "Mr. Striper" or "Mr. Stripes". . . sometimes just "Striper" or "Stripes". He came to us as a foster from Kentucky like 8 or 9 years ago and was never adopted, so he still lives here. He isn't a particularly healthy cat in that he must have allergies or something. He is congested often and sneezes frequently. You can hear him breathing a lot of the time. He also sometimes has "rodent ulcer" which affects his mouth. It will cause his upper mouth to turn into a big patch of swollen skin for months (or even years sometimes) and then it will randomly just go away. There was also the time that one of his bottom canines legit rotted and was super loose so we had to pull it out.

That being said, he is the sweetest cat. He will roll around on the bed for as long as you will sit there wanting his belly scratched. He will meow and meow and literally throw himself at you trying to get some attention. . . but that is just for us. He is a 2-person cat. He is petrified of strangers and hides from them like they are out for his pelt. Our pet sitter who has been watching the house/cats for the past 6+ years STILL has never seen Striper except in pictures. He swears that the cat doesn't exist!

Thanks for letting me share Mr. Stripes with you guys.
8 responses

• Los Angeles, California
6 Feb
Mr. Stripes found a loving home.

• United States
6 Feb
He and Bad Sandy appear to be good friends

• India
6 Feb
So nice to know Stripes.

I seriously wish a pet cat. But unfortunately, my parents aren't okay with it

• Philippines
6 Feb
Mr. Stripes is a good looking cat.

• United States
6 Feb
i was gonna say,he kinda of looks like he has a cleft palate.. beautiful boy tho


• Moses Lake, Washington
7 Feb
That's wonderful that you adopted Mr. Stripes.

• United States
7 Feb
Thank you for sharing Mr. Stripes with us! I loved reading this. I noticed his mouth looked funny immediately and wondered if it was some kind of cleft palate thing like humans can be born with. I assume that was why he was not able to be adopted. How nice it is to hear someone who loves their pets like this. That is so funny that the pet sitter has never even seen the cat. He must come out at night while the sitter is asleep. I wonder if it was mistreated when a kitten before you got him for him to be that terrified of people.

• United States
6 Feb
Aww, Mr. Stripes sounds like a sweetheart. I am glad he found a home with you guys. My cat, Mr. Lister, is also a 2-person cat and is petrified of strangers. My sister says the same thing about him that your pet sitter says about Striper.