CAT ADVICE please: Timmy threw up and now he keeps sneezing and hiding (???)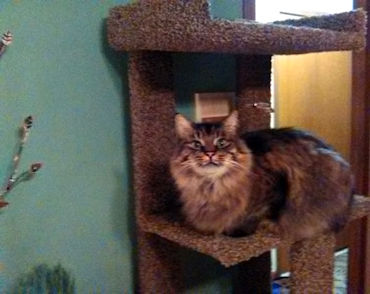 New Baltimore, Michigan
February 7, 2018 12:39am CST
Hi all, Good to be back! I missed everyone so much. Okay, for all my cat-lover/owner friends out there....got a quick question for you. My cat, Timmy (THE LOVE OF MY LIFE)

threw up a little (he's always throwing up hairballs)...but right after he did, he started sneezing like crazy. And now he's hiding away from me and keeps closing his eyes like something is either itching or burning his nose/face. Right now he's sleeping under the bed, AWAY from me, which is odd. When I approach him, he keeps closing his eyes likes something is still bugging his nose and then he runs away. I'm hoping it's something as simple as him accidentally sniffing up some of his vomit while throwing up, and now a little of it is still stuck in his nose, and that's what's bothering him and burning the inside of his nostrils/sinuses. But the crazy girl that lives upstairs in my head (that's what I call her) came up with a much, much, worse and frightening scenario...as I always do. What if he purposely ate the pet grass that I buy for him so he could throw up, and then he did throw up, and now some of the pet grass or even one piece is somehow lodged in the nasopharyngeal area (between the nose and throat) and now it is stuck and can only be manually extracted through surgery???

I hope I'm wrong about this whole thing. He can't go through another surgery. He had one done when he was only 6 yrs. old on his intestine (hairball got stuck) and he barely recovered. It wasn't the surgery that almost killed him, it was the recovery. THAT CAT just COULD NOT bounce back from surgery. I almost lost him. This was 4 years ago, and I'm so lucky he survived. So, has anyone ever had a cat throw up and then start sneezing afterwards? Was it just some nasal irritation from the vomit? And then it slowly resolved on its own? Any advice/stories greatly appreciated. Thanks so much, will be checking for replies. He's breathing fine, just hiding from me like I'm the enemy and something is definitely bothering his nose ever since he threw up. Thanks again.

10 responses

• United States
7 Feb
Okay - going to the vet might be your only option - if this keeps up. However, if he got some of the grass stuck, it will resolve itself, it just might take a bit of time. Possibly he got some vomit up the back of the nose, and the acid is bothering him, I consider this a more likely scenario, and even that will resolve itself. However, if/when you take him to the vet and they are talking surgery, remind them of the problems that he had before. That might've been a reaction to the gas, the shot they gave him, or any number of other things. This information should be in Timmy's records, if you are going to the same vet. This is a grave concern, because he is now an old cat, at 6 he was mature but not old. Now for the gross part of my response. Did you notice what he threw up? Was it different than his normal hairballs? If it was really different, didn't involve hair or food, including cat grass, you might want to get him to the vet anyway.

• New Baltimore, Michigan
7 Feb
I checked, it was just some food. Sometimes he throws up food a few times before he actually gets the hairball out. No grass in it either. He's not sneezing anymore.

And to me, that's a HUGE improvement. I don't know what happened, he throws up all the time and I'm used to it. I'm always cleaning up hairballs from him and I don't mind it one bit, I'd much rather he throw them up then have them try to digest like that one that landed him at the vet's needing emergency surgery. But this time, he was just so irritated....something with his nose for sure. And he kept running away from me, like something was chasing him or he was afraid of something. I hate it when he does weird stuff like that. When you love a cat as much as I love Timmy (I don't even have to tell you) - it's like I just can't be okay unless he's okay. I think he's okay now. Or at least better. Thanks so much
@ElicBxn
. I was hoping you'd stop by here because I had a feeling you'd have some idea of what the heck was going on here. Thanks again, hope you and your gang are well.



• United States
7 Feb
@Melanie_Marie
I have some sneezing going on. The baby, Opal, I suspect I'll need to take back for another round of antibiotics, but she's in the kitchen playing with Onyx right now.

• New Baltimore, Michigan
7 Feb
@ElicBxn
Got it. Upper Respiratory I'm guessing? Sometimes when it's viral....those antibiotics just have a real hard time kicking in, you know....gotta ride it out and then it finally goes away... Hope little Opal kicks this bug to the curb and feels better soon.


• Bunbury, Australia
7 Feb
Sorry, can't help at all. Maybe he isn't quite right yet and doesn't want to be petted and fussed over at the moment.

• New Baltimore, Michigan
7 Feb
That's what I did, I just left him alone. My doctor told me that Timmy picks up on my anxiety when I worry about him, and then he starts feeling (more) anxiety because of me, and it's best that I just let him be whenever he starts acting weird. So I took some of my 'Everything will be Alright' pills (you know, from the Prince song - "Dr. Everything will be Alright")

and passed out for a few hours, and now I'm checking on him and he seems a little better. Maybe 50% better. Thanks
@JudyEv
!

• Bunbury, Australia
8 Feb
@Melanie_Marie
If he is a bit better you will be a bit better and the circle will spiral up instead of down. Take care.



• Philippines
27 Mar
Really, he had a surgery before that's kind of sad. We have a stray cat but so far he never has experienced such thing. Maybe you should see a vet before it worsens his situation. Hope it's not really serious.

• New Baltimore, Michigan
27 Mar
He's doing much better now. I really should delete this discussion, because it's from a while back....but thank you anyway.


• Philippines
27 Mar
@Melanie_Marie
Oh, okay I didn't notice the date. But I think deleting your old discussion might affect your earnings I'm not sure but it could be.

•
26 Feb
I am sorry for what you and Timmy are feeling. Do not listen to the one upstairs. Did you contact the vet and ask? If I have a question I ask the vet or if something else I ask a friend that has cats. I hope it all works out and Timmy will be ok. I know how we worry about our furry ones.

• New Baltimore, Michigan
1 Mar
Aww thank you so much for your comment (and concern). Timmy is doing just fine now. I guess he just got a case of the sneezies after throwing up, some of it must have gone right up his nose or something. He just ate 1/2 a can of shredded salmon fare (Fancy Feast) - and I'm ALWAYS happy to see him eat.

Thanks again!

•
2 Mar
@Melanie_Marie
Melanie, I am so glad he is ok. I worry about my cat if something is not right. I also feed her fancy feast.

• Leicester, England
7 Feb
Only a visit to the vet will resolve this problem, if it continues. Sorry - cats can get expensive, but if you really care for your moggy - which you clearly do - then what alternative do you have?

• New Baltimore, Michigan
7 Feb
Oh boy, you don't know how many vet visits I made with him when he was recovering from surgery 4 years ago. It went on for 3 weeks. He refused to start eating again after surgery...and ran into big trouble. With his kidneys, and even his heart. Finally, right before I was about to take him to yet another vet for an ultrasound to see what could have possible gone wrong with the surgery, he started eating. It was like a miracle. That was a total nightmare. See, Timmy, along with his brothers and sisters (and Mama) are all semi-feral. I raised them that way, or maybe it was just in their blood. Nobody ever sees them, only me. When somebody comes over, they all hide. So you can imagine how they would be at the vet's. Sometimes I think Timmy had such a hard time recovering.. simply from the stress alone of having to be out of the house and in a strange place. Basically it's like me, at Urgent Care. I turn into a wild animal as well. My nephew is the same way. We just can't be touched by medical hands in any way. That poor kid is supposed to have his tonsils out....for years now. But no doctor wants anything to do with him. They just keep sending him home because he's too wild and crazy in a medical facility and nobody can get him under control. That's how I am at Urgent Care, that's how he is at the doctor's office, and that's how Timmy is at the vet. So sometimes I wonder if I actually raised my cats to be this way - I hope not. I didn't do it on purpose.The only doc I'm not afraid of is my shrink. Thank God for him. Anyway, Tim seems a little better, he's watching birds on the roof right now with the rest of the gang. They're all sitting on the cat climber. And he ate a little, so that's good. Thanks
@indexer


• New Baltimore, Michigan
7 Feb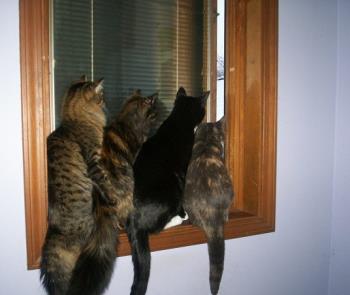 @indexer
This is how they would do it when they were still small enough to all fit on the window sill. Now they have a huge cat climber and I open the window all the way (screen). They watch the birds all morning. If Timmy wasn't doing that right now, I'd be very, very concerned.

• Gloucester City, New Jersey
8 Mar
I'm a little late, but I'm going to guess that a little of the vomitus entered his nostrils from behind and sneezing is how they get rid of it. He probably got a bit scared because he couldn't dislodge it, so he hid to deal with it. How is he now?


• Philippines
8 Feb
That's worrisome. Our cats in the house does not get sick too often. But I hear them sneeze at times. Hope your cat gets fine. Better bring him to the veterinarian

• New Baltimore, Michigan
8 Feb
Doing better now.

(I won't jinx it.) Thank you!

NO VET. Not this time anyway..

•
7 Feb
Sorry, I have no answer to that either, only a vet can clearly answer your query and help your pet.

• New Baltimore, Michigan
7 Feb

Not as simple as taking him to the vet, believe me. I've made friends with a vet who comes to the house, FOR GOOD REASON. Not sure I need to call him just yet. You can't catch Timmy, unless he's actually sick and dying. You can't touch these cats or mess around with them, let alone get them into a cat carrier. Just think wild raccoons that have never had any human interaction - THAT'S how Timmy can get when cornered, along with his whole family. Thanks
@pitsipeahie

• Australia
27 Mar
We don't have cat .. but we have a dog who eat grass so he can throw up ..