Daily Bible Study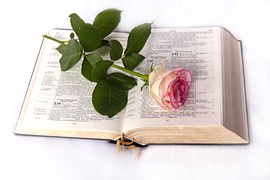 Green Bay, Wisconsin
February 7, 2018 4:34am CST
Day 5 Daniel 5 Daniel 5:1 Belshazzar the king made a great feast to a thousand of his lords, and drank wine before the thousand. 2 Belshazzar, whiles he tasted the wine, commanded to bring the golden and silver vessels which his father Nebuchadnezzar had taken out of the temple which was in Jerusalem; that the king, and his princes, his wives, and his concubines, might drink therein. 3 Then they brought the golden vessels that were taken out of the temple of the house of God which was at Jerusalem; and the king, and his princes, his wives, and his concubines, drank in them. 4 They drank wine, and praised the gods of gold, and of silver, of brass, of iron, of wood, and of stone. 5 In the same hour came forth fingers of a man's hand, and wrote over against the candlestick upon the plaster of the wall of the king's palace: and the king saw the part of the hand that wrote. 6 Then the king's countenance was changed, and his thoughts troubled him, so that the joints of his loins were loosed, and his knees smote one against another. 7 The king cried aloud to bring in the astrologers, the Chaldeans, and the soothsayers. And the king spoke, and said to the wise men of Babylon, Whosoever shall read this writing, and show me the interpretation thereof, shall be clothed with scarlet, and have a chain of gold about his neck, and shall be the third ruler in the kingdom. 8 Then came in all the king's wise men: but they could not read the writing, nor make known to the king the interpretation thereof. 9 Then was king Belshazzar greatly troubled, and his countenance was changed in him, and his lords were astonied. 10 Now the queen, by reason of the words of the king and his lords, came into the banquet house: and the queen spoke and said, O king, live forever: let not thy thoughts trouble thee, nor let thy countenance be changed: 11 There is a man in thy kingdom, in whom is the spirit of the holy gods; and in the days of thy father light and understanding and wisdom, like the wisdom of the gods, was found in him; whom the king Nebuchadnezzar thy father, the king, I say, thy father, made master of the magicians, astrologers, Chaldeans, and soothsayers; 12 Forasmuch as an excellent spirit, and knowledge, and understanding, interpreting of dreams, and showing of hard sentences, and dissolving of doubts, were found in the same Daniel, whom the king named Belteshazzar: now let Daniel be called, and he will show the interpretation. 13 Then was Daniel brought in before the king. And the king spoke and said unto Daniel, Art thou that Daniel, which art of the children of the captivity of Judah, whom the king my father brought out of Jewry? 14 I have even heard of thee, that the spirit of the gods is in thee, and that light and understanding and excellent wisdom is found in thee. 15 And now the wise men, the astrologers, have been brought in before me, that they should read this writing, and make known unto me the interpretation thereof: but they could not show the interpretation of the thing: 16 And I have heard of thee, that thou canst make interpretations, and dissolve doubts: now if thou canst read the writing, and make known to me the interpretation thereof, thou shalt be clothed with scarlet, and have a chain of gold about thy neck, and shalt be the third ruler in the kingdom. 17 Then Daniel answered and said before the king, Let thy gifts be to thyself, and give thy rewards to another; yet I will read the writing unto the king, and make known to him the interpretation. 18 O thou king, the Most-High God gave Nebuchadnezzar thy father a kingdom, and majesty, and glory, and honor: 19 And for the majesty that he gave him, all people, nations, and languages, trembled and feared before him: whom he would he slew; and whom he would he kept alive; and whom he would he set up; and whom he would he put down. 20 But when his heart was lifted up, and his mind hardened in pride, he was deposed from his kingly throne, and they took his glory from him: 21 And he was driven from the sons of men; and his heart was made like the beasts, and his dwelling was with the wild asses: they fed him with grass like oxen, and his body was wet with the dew of heaven; till he knew that the Most-High God ruled in the kingdom of men, and that he appoints over it whomsoever he will. 22 And thou his son, O Belshazzar, hast not humbled thine heart, though thou know all this; 23 But hast lifted up thyself against the Lord of heaven; and they have brought the vessels of his house before thee, and thou, and thy lords, thy wives, and thy concubines, have drunk wine in them; and thou hast praised the gods of silver, and gold, of brass, iron, wood, and stone, which see not, nor hear, nor know: and the God in whose hand thy breath is, and whose are all thy ways, hast thou not glorified: 24 Then was the part of the hand sent from him; and this writing was written. 25 And this is the writing that was written, MENE, MENE, TEKEL, UPHARSIN. 26 This is the interpretation of the thing: MENE; God hath numbered thy kingdom, and finished it. 27 TEKEL; Thou art weighed in the balances, and art found wanting. 28 PERES; Thy kingdom is divided, and given to the Medes and Persians. 29 Then commanded Belshazzar, and they clothed Daniel with scarlet, and put a chain of gold about his neck, and made a proclamation concerning him, that he should be the third ruler in the kingdom. 30 In that night was Belshazzar the king of the Chaldeans slain. 31 And Darius the Median took the kingdom, being about threescore and two years old. The world is full of foolish people who do things against good judgment and common sense, for their own pleasure, not caring who they hurt in doing so. Belshazzar was such a man. In his father's place, he took the vessels brought from the temple in Jerusalem and drank from them, using them for purposes they were not made for, which was the worship of God alone. God would not have his instruments of worship used the way Belshazzar did, and brought an immediate sentence of death upon him with the writing on the wall, that only Daniel could interpret. Once interpreted, his life was taken from him the same night and Darius, king of the Median kingdom, ruled in his place. As Christians, you know you are not to mix with the world, yet the temptations to do so are strong because everyone has in their nature a need to prove they can do whatever they like, without regard for the other person. Paul admonished the people to set aside the old nature, and take up the new nature God gave you when you accepted Jesus as Savior and Lord. 2 Corinthians 5:16 Wherefore henceforth know we no man after the flesh: yea, though we have known Christ after the flesh, yet now henceforth know we him no more. 17 Therefore if any man be in Christ, he is a new creature: old things are passed away; behold, all things are become new. 18 And all things are of God, who hath reconciled us to himself by Jesus Christ, and hath given to us the ministry of reconciliation; 19 To wit, that God was in Christ, reconciling the world unto himself, not imputing their trespasses unto them; and hath committed unto us the word of reconciliation. 20 Now then we are ambassadors for Christ, as though God did beseech you by us: we pray you in Christ's stead, be ye reconciled to God. 21 For he hath made him to be sin for us, who knew no sin; that we might be made the righteousness of God in him. (KJV) What you once were, you are no longer, and the world and all its deceits which take you away from God, were laid down at the cross. Satan has no more control over you. When you live your life for God, casting down those things Satan would tempt you with, God will raise you up and give you a place of favor. Because Daniel refused to follow the ways of the kingdom, but looked to God alone for his strength and purpose, God gave him the ability to interpret not only dreams, but the handwriting on the wall, and in so doing, Belshazzar lifted him up in honor, even though his own death was imminent. God will do the same for you when you put your trust in God. Let's pray: Father, you alone are my strength, my purpose, my life. Help me see through the schemes Satan has set up against me, and cast him away from me, living my life for you alone. In Jesus' name, I pray, amen. Copyright © 7 February 2018 by Valerie Routhieaux Image courtesy of Pixabay
3 responses

• Philippines
7 Feb
I believe what Daniel. He has power of discernment to interpret dreams and mysterious writings on the wall. Some people have power too for they're chosen and anointed but they use it for their personal aggrandizement and ulterior motives, and eventually they're damned.

• Green Bay, Wisconsin
7 Feb
We need to use God's gifts as he intended for us to use. Have a blessed day.

• Green Bay, Wisconsin
7 Feb


• United States
7 Feb
See, this is why I really do feel that there is a lot out there that we don't fully understand when it comes to God, the future, dreams, and what others call new age stuff. I don't think its new. I think a lot of it, comes from God but over time, the methods of use got lost or were really never given to all the people.; For a long time, most were kept illiterate because they didn't want the common person reading the bible. There really is a flood gate of amazing information when one does open the bible and seek the true answers. Then at other times, its like, how much was left out and removed by priests over time? Stories have changed in the centuries since the first bible was ever made. Is it really a sin to consider exploring dreams and meanings? is a sin to use tarot cards? There have even been religious documents suggesting other methods like that were once common?

• Green Bay, Wisconsin
8 Feb
No, it's not a sin to try to discover the meanings of dreams, as long as you are seeking God for the answers. Tarot cards are not in any way representative of God, but Satan. So I would stay as far away from those as possible. The Holy Spirit has given us gifts and we are to use them, according to his purpose, not any other. The Chaldean astrologers, soothsayers, and other mystics couldn't interpret the handwriting on the wall because it was from God and their practice was not God based, but Satan based.

• Russian Federation
7 Feb
Thank you. which interpretation of the Bible is it?

• Green Bay, Wisconsin
7 Feb
King James Version - KJV as indicated at the end of one of the passages. King James Version is Public Domain. Have a blessed day.

• Russian Federation
7 Feb
@just4him
I respect this interpretation, thanks