Hubby Spilled the Beans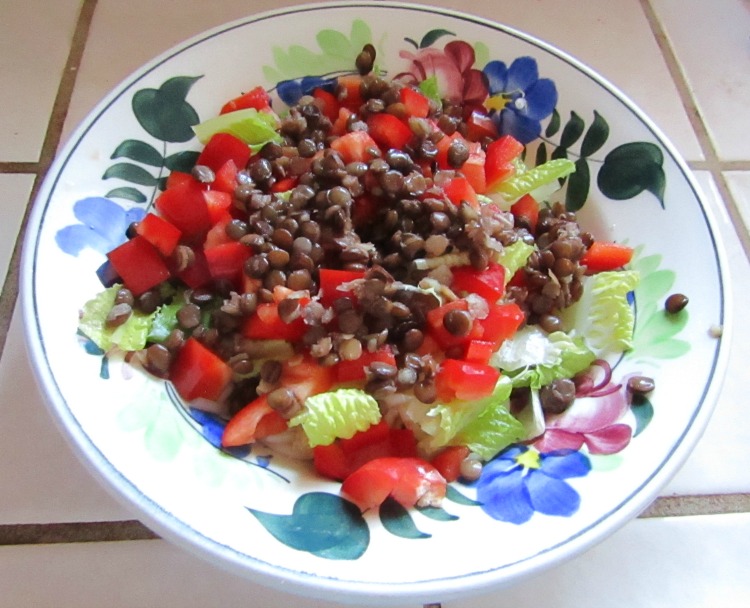 Paso Robles, California
February 9, 2018 1:39am CST
Literally! I spent a couple of hours today sorting, cleaning, and cooking lentils. I hate sorting through them and it seems to take forever to make sure there aren't any rocks or other foreign substances in two cups of lentils. But I finally got the job done. The plan was to freeze three cooked 12-ounce portions, put one more in the fridge, and use some on top of my salad today. About a cup was still left, so I put that in a glass refrigerator dish to use soon. It joined about half a cup of leftover canned white beans still waiting to go into a salad. They were in a square glass refrigerator dish. I was satisfied with my food preparation efforts and took my salad into the family room to eat while watching TV. Then I started reading on my bed, got sleepy, and closed my eyes for a bit before going to the computer. So I'm working on processing some photos and I hear a loud crash and a scream. It took me a minute to find Hubby, who was in the kitchen. I was afraid he might be hurt. The fridge was open, and lentils and white beans were on the bottom of the fridge and on the kitchen floor underneath. Fortunately nothing was broken except the bottom of a thin plastic storage container meant to go from microwave to freezer, but not to drop on the floor from three feet. The plastic didn't shatter, so I could save the lentils that were inside by moving them to a different dish. It was the smaller glass containers of lentils and beans that spilled all over what seemed like everything. So Hubby was upset with me because of the way I'd put the dishes in the fridge. He tends to get excited easily. I got the broom and a rag to clean up the mess. I was more upset that I'd lost a cup of those lentils I'd worked so hard on. I'm not even sure the few beans that spilled were still good. So as I was helping Hubby get his CPAP mask on before bed, he said he loved me. And I said I loved him, too, even if he did spill the beans. And we both laughed. He gets upset easily, but he also calms down and realizes when he's been unfair. Anything exciting happened at your house lately?
8 responses


• Paso Robles, California
9 Feb
Not often enough. Beans are easier, since they are bigger. Lentils are tiny in comparison. The ones I was sorting were brown -- close to the color of the foreign objects one might find in them. But out of two cups of lentils I was sorting, I found less than a teaspoon of foreign material or deformed lentils. So it's tedious sorting them. Sorting takes more time than cooking. Two cups of dried lentils make about six cups cooked, so I wanted to cook this large batch so I don't have to cook them so often.


• Paso Robles, California
9 Feb
I do something similar except I can see better on a light colored plate and I do it in smaller batches. Do you remove lentils that are broken or missing some skin?

• Paso Robles, California
10 Feb
@LadyDuck
Good to know. I only found one little rock in two cups.


• China
9 Feb
It was a pity,your beans that you worked hard with all go to garbage ! You are of a calm temper and laughed it off.

• Paso Robles, California
9 Feb
I actually only lost about a cup of lentils. Some stayed in the dish that fell. Most were already in the freezer. It could have been much worse. I didn't feel like laughing when it happened, but my husband had apologized for his initial outburst. We just needed a few minutes to comes to grips with the situation. Laughter is healing.

• China
10 Feb
@bagarad
Yes,sometimes We can diffuse the tension by laughter .

• United States
9 Feb
I had to stifle my laugh with this because my son is sick and laying next to me sleeping. I made a squeak trying not to laugh and thankfully it did not wake him up. I do not like lentils so I will never have to deal with sorting through them which I wouldn't have expected to have to do..

• Paso Robles, California
9 Feb
Lentils seem to take on the flavor of what you cook or serve them with. I usually put them in soups or on top of salads.

• United States
9 Feb
My mom used to put them in soup

• Paso Robles, California
10 Feb
@shaggin
It's a good place to hide them. They really are good for us.

• Bunbury, Australia
9 Feb
I'm glad you both ended the day on a good notes. You were almost crying over spilt beans, not spilt milk.


• Paso Robles, California
9 Feb
I didn't cry, but I was frustrated. I was glad I wasn't in the midst of a palpitation incident. I was over with one I'd had a couple of hours before.

• Los Angeles, California
9 Feb
At least it was not jumping beans.

• Paso Robles, California
9 Feb
I've never kept any of those around. I doubt even those wouldn't have jumped after being cooked. They aren't edible anyway, are they?

• India
9 Feb
This "After the storm comes the calm; after the calm comes the sunshine" I see is where there is love.

• Paso Robles, California
9 Feb
Love helps one see these things in perspective and do what needs to be done.

• United States
9 Feb
First, sorry I haven't been in contact. This mess with the stress is worse than I realized. Will pm you in the am. When you said that your hubby spilled the beans I was sure he let some good tidbit of gossip out. Thankfully he wasn't hurt, just your hard work. Where do you buy your beans? I find that sorting beans can be very relaxing. Nothing exciting happening here, I just got called in to help at the shop today.

• Paso Robles, California
9 Feb
That title was supposed to deceive. I probably got them at Food 4 Less or Smart & Final. I keep a supply of legumes in storage. I'm hoping to get out to shop this afternoon, but so far I'm not dressed. I won't leave until after "Sound Off" on KPRL. It's how I keep up with what's going on politically in California.