Are You Being Manipulated By Advertisement?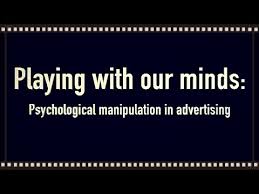 Hong Kong
February 9, 2018 11:53am CST
Almost everyday 24 hours a day and 7 days a week our mind is constanly being manipulated by commercial/advertisement about goods and services et cetera. Consciously or unconsiously, our consumer's behavior and spending habit is being influence by ads. That's the reason why comapny's/corporation spent billions of dollars in advertisement. We as consumers are the target of any advertisement. Yes, adviertisement stimulates one's appetites for a products or services even if you don't really needs it. It appeals to emotion. It is a simple sales talk. Do you pay attention to commercial or advertisement? Did you buy something because you were influnced by ads? Picture credit: youtube.com
7 responses

• United States
9 Feb
Not sure if I have.At this moment I cannot recall.

• Hong Kong
9 Feb
@amadeo
No problem my friend and I hope you are having a good day.



• Philippines
9 Feb
I get hungry at times





• Philippines
9 Feb
@mandala100



Oh those tasty food commercials, showing how they`re about to bite a yummy big burger and drink a cola with a sparkling sound..shhhhh..ahhh..



• Philippines
9 Feb
@vandana7
Don`t be sad because you`re not alone




• Hong Kong
9 Feb
@Maria24
You are welcome my friend.



• Charlotte, North Carolina
9 Feb

• Hong Kong
9 Feb
@PatZAnthony
That's true my friend, consciously or unconsciously.


• Philippines
10 Feb
If there was something that worth for me to buy products to were the exercise equipment, computer parts and vegetable meal. It's rare that I take attention for these commercials.

• Hong Kong
10 Feb
@Letranknight2015
You are a wise buyer my friend.


• Philippines
10 Feb
@mandala100
not really, takes me years to realize that saving money is important.

• Banks, Oregon
9 Feb
We all probably are a little bit.

• Hong Kong
9 Feb
@TRBRocks420
Yes my friend and to a certain extent.


• United States
9 Feb
I have fallen for a few AS SEEN ON TV products. The commercials make the product look like it works well, but it usually does not.

• Hong Kong
9 Feb
@Corbin5
Yes my friend that's true and it's all about sales talk that says "Buy Me".