Things the Nurse Doesn't Mention When She Gives You Your LifeWatch Heart Monitor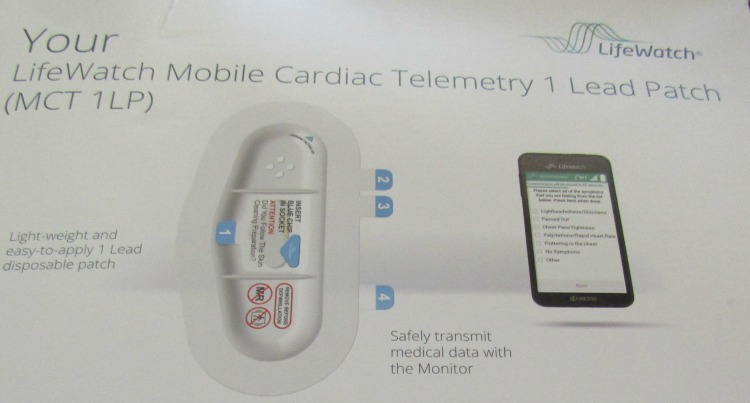 Paso Robles, California
February 10, 2018 4:48pm CST
I'm thankful I have this LifeWatch system on to monitor my heart 24/7 unless the patch isn't on or it's too far from the phone monitor. The nurse initially put the patch on me in the doctor's office to demonstrate how it's done and to make sure it was working before I went home. (Look at the photo if you want to see how the components look.) The system comes with the chip, some patches to hold the chip against your skin, some gauze, some alcohol swipes, a phone monitor and case, and two instruction books to refer to when you get an error message or need to change the patch or call for help. So off I went, expecting each patch to last a week with no problems. In the ten days I've been wearing the patch, I've experienced a few things I wasn't quite expecting. I'll tell you about them because that's how I learned what I'm going to share. If you ever have to use this system, here are some things you should know the nurse or doctor may not tell you. They may not even know themselves. 1. The tech people on the end of the phone are very helpful -- after you finally get hold of them. They are usually busy helping other patients who got there first, and the wait may be 15 minutes or longer to get through to a real person. 2. The phone will always beep to get your attention if something is wrong that you need to fix. This most often happens if you need to change the patch, if the patch is too far from the phone monitor, or if the patch is not longer firmly attached to your skin. Since you are supposed to always have the phone near you, you will always hear it -- day or night. Asleep or awake. 3. The message that you need to change the patch will come at inconvenient times. Maybe when you are asleep, as happened to me this morning. It may also come when you are having an episode you are trying to record and you are feeling mentally confused. Meanwhile, as you are trying to figure out what to do, the phone will keep beeping every few seconds to remind you of what has to be done. 4. The patch isn't as easy to change as what you see on the box lid would indicate. Especially if you are having palpitations and can't think straight and you are still half asleep. 4. If you have a hot flash, you can generate enough heat to loosen the gel that holds the patch on, thus sending you the message that the patch has a loose connection to your skin -- more beeps. ****************************************************************************************** So here's what happened this morning to teach me these things. An episode of palpitations occurred about 7 AM as I was still sleeping. I don't usually get up until 9 or 10 when I get to bed at 2 AM, and I was far from ready to get up. I got up to take half a pill of heart medication -- what I'm supposed to do when I have an episode. Then I visited the bathroom so that I might be able to get to sleep after the episode stopped without having a bladder call to keep me awake. The act of getting up set off a hot flash just after I got back to bed. I don't sleep well during a hot flash, so I had to ditch the covers until it passed and then put them back on when I got cold again. I put on my mask to keep the light out, turned over, and managed to get back to sleep. Beep! Beep! My monitor was trying to tell me something. So I sleepily reached for the phone and saw that it wanted me to change the patch and that the connection to my skin was weak. Whoopee! It's hard enough to change the patch when I'm fully awake. My husband, who had helped me the last time, was still asleep. So I called support and tried to read the manual, half-asleep, still palpitating and mentally confused because of it, while I waited on hold for a real person to pick up. Meanwhile my heart is still going thump, thump, thump at a rapid rate. And the monitor is still beeping and threatening to send me over the edge of sanity. By the time support picked up, I had managed to get the chip out of the old patch and get it into the new one. Support said the hot flash probably melted the contact gel but that it was probably about time to put on a new patch anyway. She said she'd walk me through it on the phone. By this time my husband heard the commotion and poked his head in and concluded I didn't need him. I didn't realize I did until we got to the the last step. The last step is holding the patch firmly over your chest for two minutes. The support lady was timing, but my hands aren't that big, and last time my husband had done this part. We got through one minute and my arms started to ache and I don't have much strength in them anyway because I have arthritis in my hands. Support let me walk across the house to get my husband, who doesn't walk very fast due to his own problems. He finally made it to the bedroom, still chomping on a dried fig, but he managed to hold the patch on for the other minute until it was firmly stuck. By this time I was exhausted. The support lady had me press the episode button to make sure the patch was picking up my heart activity and that the monitor was getting the results. She had been a great help through the whole process. By this time my pill was starting to kick in and my heart was finally beating more normally, so I pressed the episode button again to report that I was no longer having symptoms. I rested in bed for another half hour before concluding I wasn't going to be able to get back to sleep. I got up and came right to myLot to help me wake up. Have you ever used this type of heart monitor or a similar one? Did you have any problems you didn't anticipate? Have you or a family member had unanticipated problems using other medical equipment or doing medical tests or procedures at home? Please enlighten those of us who may need to use or do them in the future.
7 responses


• Paso Robles, California
11 Feb
I will be through with this Tuesday. I'm just hoping I won't need to change the patch again before that.

• United States
11 Feb
@bagarad
I hope you don't have to either. How are you doing though? I see you around once in awhile. Hope things are going well for you. I just hate getting older. I am starting to realize what my parents always said through the years. Wow, it is no joke. Stay good and be healthy.

• Paso Robles, California
12 Feb
@inertia4
I'm getting lazier about blogging and I'm getting leary of joining every new site that comes along. I'd rather come here to keep in touch with people, so I'm hanging out here more now as much as I can. I suppose none of us likes the physical and mental changes we get with aging, but the alternative to aging isn't much better.


• United States
11 Feb
I have no experience with this kind of monitor but it's good you wrote about it as anyone thinking of having one of these can search and find your article and get a bunch of information they wouldn't have gotten from a nurse. What an absolute hassle that all was and frustrating for you. I can't think clearly either when I am tired and woken up like that plus your heart was beating like crazy. Yikes what an awful way to be woken up!

• Paso Robles, California
12 Feb

• Paso Robles, California
12 Feb
@shaggin
I turn in my monitor just before noon on Tuesday, so now I have less than one more day with it.


• Green Bay, Wisconsin
11 Feb
I'm sorry you had such an experience with the heart monitor. My experience was with a sleep apnea test. I connected everything the way it was supposed to be, and went to bed. However, the connections came free while I slept so the test results weren't accurate. They wanted to redo the test, but I told them no, since I know I don't have sleep apnea.

• Paso Robles, California
11 Feb
I don't think I have it, either, and I always sleep on my side anyway. I could not sleep with the CPAP machine my husband uses.

• Green Bay, Wisconsin
12 Feb
@bagarad
I toss around too much, so that is completely out of the question. I'm sure if I stopped breathing, I would know it.

• Paso Robles, California
12 Feb
@just4him
If I stopped breathing, I'd soon be in better hands.


•
13 Feb
It seemed to be a scary moment there. What if the patient could not change the patch fast enough?

• Paso Robles, California
14 Feb
It just wouldn't record any data when it wasn't on your body. The patch does nothing to help a situation. It simply lets the doctor know what goes on.

•
14 Feb
@bagarad
I am glad to hear. So that patch doesn't affect your health one bit?


• Paso Robles, California
14 Feb
@YrNemo
No. It's not like a medication patch. It's like a tiny EKG machine that reports to the phone monitor.


• Bunbury, Australia
11 Feb
I know health professionals are often a bit brief with their advice. And what is commonplace to them might be totally foreign to someone new to a procedure or piece of equipment of whatever.

• Paso Robles, California
11 Feb
Probably most of those issuing the devices are too young to have actually worn them so they just go by the book and if the books doesn't mention it, they don't know either.

• Bunbury, Australia
11 Feb
@bagarad
I should think that would be highly likely.

• Roseburg, Oregon
14 Feb
I am glad I do not need to use that monitor it would be very confusing.

• Paso Robles, California
14 Feb
Actually, the monitor is just a smartphone, except it only sends messages from the patch chip to the LifeWatch monitors and sends messages to me if I need to do something. We still use the house phone to have conversations with the Life Watch human monitors. Sending the messages is easy and convenient. What's hard is getting them at inconvenient times, like when you are asleep, and then need to do something, like change the patch or move the phone close to you.


• Paso Robles, California
11 Feb
This is like a little EKG machine you wear in a patch. The chip records what's happening in your heart and transmits the information to people with the LIfeWatch company who monitor it 24/7. Whenever you have symptoms, you press a button to alert them and specify the symptoms you are experiencing. You alert them again when the symptoms stop. If you have questions you can call them. At the end of the monitoring period they send the information to your doctor so he can use it to decide what treatment is necessary or if further tests are needed. I believe there is also an app for smartphones that does something similar, but I don't' have a smartphone of my own.