Social media comes to the rescue of a lonely dog at a library in Minnesota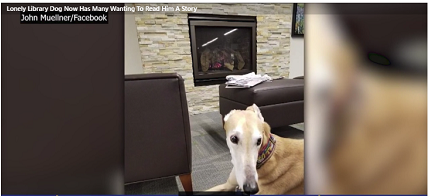 Lake Charles, Louisiana
February 13, 2018 6:21pm CST
A male dog named Sting usually has children read stories to him at the White Bear Lake Library in Minnesota. Thanks to the power of social media, there was a story that the male dog named Sting did not anyone be in his presence to read him a story from a book. When the story of the dog who was lonely inside the library in Minnesota became worldwide news, the response from the persons who read the story called "Paws To Read" became such a huge hit that children who use the library to read stories to the dog have been booked until April 2018 in Ramsey County Minnesota. It is very unusual for a library to have a dog sit still as a companion for children to share their time reading a book to a dog. But it works in this case.
8 responses

• Colorado Springs, Colorado
14 Feb
I've heard that reading to a dog is a great way for kids to learn to read. Now I'm wondering if Sting was named after the singer or the wrestler.

• Lake Charles, Louisiana
14 Feb
That is a good question since the joke was that when Sting fans would go to the sports arena to get an autograph from Sting, they were shocked to see that Sting the wrestler was there.

• Philippines
14 Feb
children likes dogs so i suppose theyre happy to have him while reading at the library

• Lake Charles, Louisiana
14 Feb
It really is nice to see kids reading stories to a dog inside a library.

• Leicester, England
14 Feb
Presumably the dog just likes the company, and being the centre of attention!

• Lake Charles, Louisiana
14 Feb
I guess the dog enjoys being read stories inside a library which is unusual since there is no library in Louisiana that has kids reading books to dogs.

• United States
14 Feb
Thank you for sharing this news with us. Sting is quite a special dog.

• Lake Charles, Louisiana
14 Feb
My pleasure to share some wonderful stories on this site to make your days better.

• Bunbury, Australia
14 Feb
How nice is that? I haven't heard of it before.

• Lake Charles, Louisiana
15 Feb
I have never seen any dogs inside any library in Louisiana.

•
14 Feb
Lucky dog! (or unlucky dog?)

(that dog there is very beautiful.)

• Los Angeles, California
14 Feb
Amazing the dog can sit still and not bark.