LOL Groceries are now banning teenagers from buying Laundry pods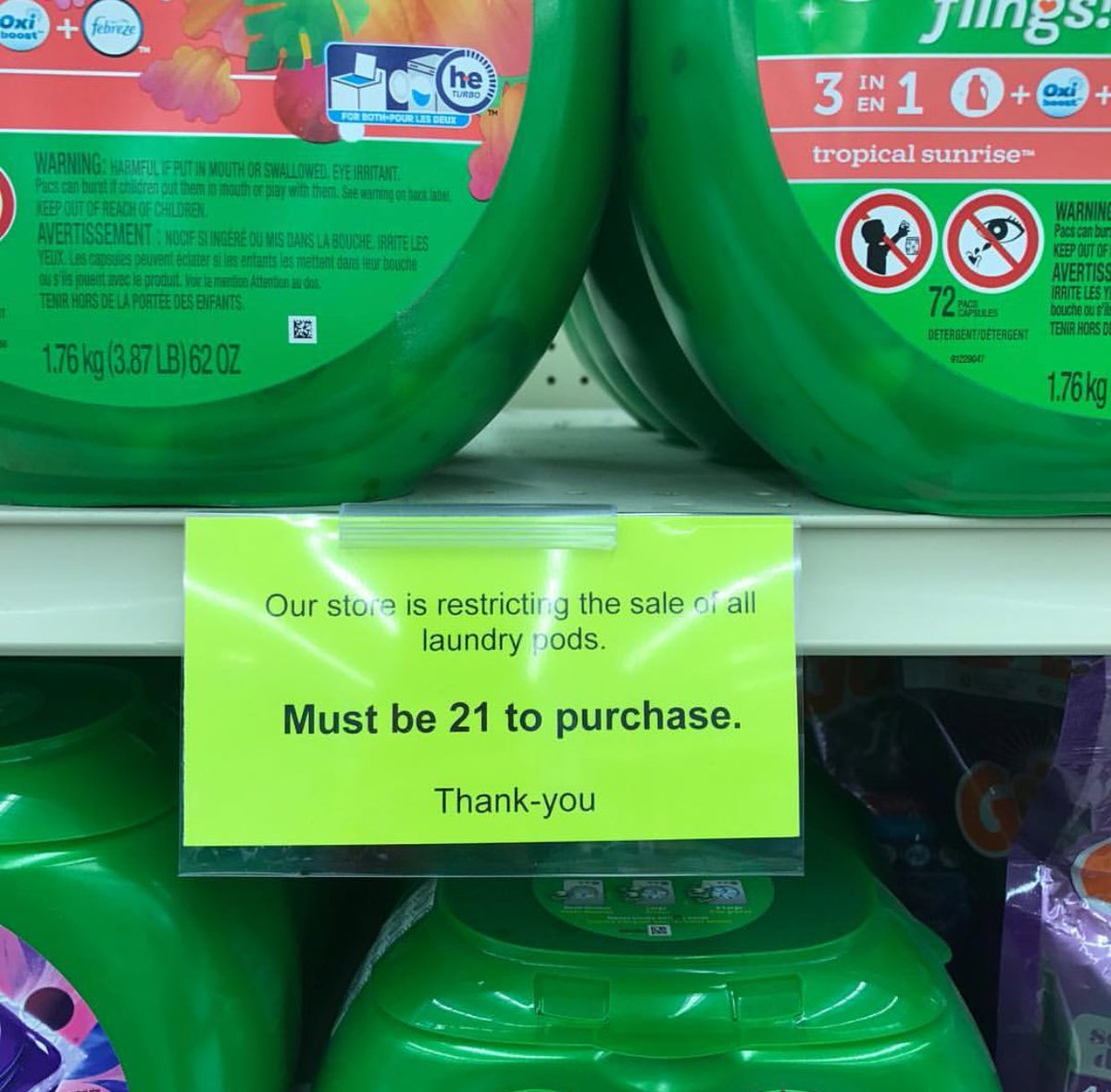 Calgary, Alberta
February 14, 2018 1:43am CST

Many groceries now refuses to sell Laundry pods to Teens, People must now have an ID and prove they are over 21 years of age to buy Laundry Pods. LOL even 18 year olds are banned since most victims of the poisoning are college students who wants social media fame. I can't even......

I can't breathe, I am dying of laughter. Oh teens are now eating the "cotton candy" in the attic. AKA pink Asbestos.
5 responses

• Los Angeles, California
14 Feb
And we keep getting told this generation is the smartest and brightest and entrust the future to them.

• Calgary, Alberta
14 Feb
Now it is getting worst, Teens are now eating asbestos because it looks like cotton candy

• United States
19 Feb
A little kid I can understand . . . but that's pretty lame if an 18 year old doesn't understand that we do NOT eat laundry pods - that's just sad.

• Calgary, Alberta
20 Feb
They will do it for the sake of having more Instagram followers. Youtube Autobans videos of people eating tidepods now.

• United States
20 Feb
@CaptAlbertWhisker
Ah, so it's a way to claim momentary fame? Oh what people will do to get their 15 minutes. Dumb dumb dumb



!

• Calgary, Alberta
20 Feb
@much2say
We live in an Era where kids see Jake Paul, Logan Paul,Danielle Bregoli ,Those Ironically white supremacist white rappers ,Ricegum ,Kardashian Jenner family and more morons as role models.


• United States
16 Feb
Just like you need to be 21 to buy permanent markers or canned air now, because idiots abuse those products. Now people are burning themselves on their electric stove tops doing the "hot coil challenge," but the videos I've seen of that were not teenagers, it was full grown idiots doing it. This one guy looked like he had to be at least 25, maybe older. Which I guess just goes to show, stupidity has no age limit.


• United States
17 Feb
@CaptAlbertWhisker
Anything to gain 5 seconds of fame. We used to joke about sniffing permanent markers when I was in middle school, but I never knew anyone who actually got high off of it. I guess you'd have to do it for a long time for it to do anything. Still irritates me that we get carded when buying those, and the compressed air you buy for cleaning keyboards, because idiots huff that stuff.

• United States
18 Feb
@CaptAlbertWhisker
That is so sad. Those children who are inhaling contact cement liquid need help in more ways than one. People in general are stupid. I knew a guy who ate a urinal cake when we were younger.

• Calgary, Alberta
20 Feb
@Srbageldog
They do it because the contact cement numbs their hunger for 3 days. So they choose it over food.


• Switzerland
14 Feb
I fully agree with
@JohnRoberts
. They do not look that smart after all, just idiots.

• Calgary, Alberta
14 Feb
When I was a kid I play with detergents to make bubbles but eating them never crossed my mind. I was a allowed to buy detergent at groceries.

• Switzerland
14 Feb
@CaptAlbertWhisker
I also made bubbles using detergents, but I would have never put them in my mouth.

• Calgary, Alberta
17 Feb
@LadyDuck
BTW Moronic teens have a new challenge, Its The Ikea challenge, They will stay in Ikea until it closes down without being caught by guards.


• Philippines
14 Feb
Some people are just idiots, how can they considered poisoning other people. I know the feeling of dying lol

• Calgary, Alberta
14 Feb
Remember the 1980's movies having visions of people being too smart by 2018 that cars fly..... Well people from the 80's will be dissapointed, People in 2018 are eating detergent.