The Housekeepers Tale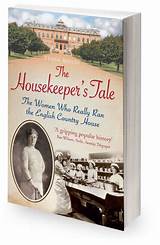 United Kingdom
February 14, 2018 4:11am CST
This book was written by Tessa Boase in 2014. It is a non fiction books telling true life tales of the women who were housekeepers in large country houses in the 19th century. The chapters are about individual house keepers from several different country houses. Tessa gets her information from diaries and letters that were found in these houses, many of which have been demolished since. I think this is a great book because it takes us back in history to a lifestyle that is almost non existant nowadays.
4 responses

• Philippines
14 Feb
im curious of that book as well,, is it a bit scary?

• Philippines
14 Feb
@millie02
i suppose she works with a high wage and luxurious living there despite of scary moments but i think many housekeepers there in a castle

• United Kingdom
14 Feb
@Strawberry18
I expect she did live in luxury compared to most of the other servants at the time. But she would have had to work hard to get to being a housekeeper.


• Pittsburgh, Pennsylvania
14 Feb
Another great book review and a book I will add to books I want to read

• Pittsburgh, Pennsylvania
14 Feb
@millie02
I had a list once that was long, but i seem to have misplaced it, But i am starting it again and going to keep them all in a nice folder, so I never lose the names again. I have been reading reviews of books on and off at the Goodreads website. Then i go to the Amazon website. How do you choose to put books on a to read list?


•
19 Mar
That is an interesting topic to discuss. So, what did you think of the book?

• Los Angeles, California
14 Feb
The book ventures into Downton Abbey territory.