#24 Odd Facts

United States
February 14, 2018 9:58pm CST
Some persons evidently think that the British government owns Buckingham Palace, for some reason. However, today, I learned that, in 1761, King George III privately purchased Buckingham Palace, the residence, originally built in 1703, by John Sheffield, the Duke of Buckingham. Since then, the property has been handed down through the royal family. While this is not such an ODD fact, it is certainly an interesting fact. Queen Elizabeth ll NOW privately owns not only Buckingham Palace, she owns Windsor Castle, Balmoral Castle, Sandringham, Hampton Court, the Tower of London, the State coaches, the royal yacht, the Royal train, and the Crown Jewels.
2 responses

• Los Angeles, California
15 Feb
That is why the Queen was the world's richest woman until J.K. Rowland supplanted her.

• United States
15 Feb
Do you really think that J.K. Rowland has made that much money? Hmmmmm?

• Los Angeles, California
15 Feb
@IreneVincent
Harry Potter is one of the most profitable industries of our time. The movies alone made billions and she received a major c hunk of that.

• United States
16 Feb

• Bunbury, Australia
15 Feb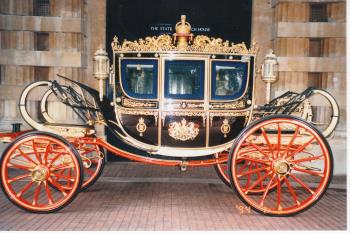 We visited Buckinghmam Palace when we were in England and watched the Changing of the Guard. We also visited the Royal Mews and saw the fabulous coaches. This is what is known as the Irish coach.