And the winner of the BAFTA goes to.....oppressed women in black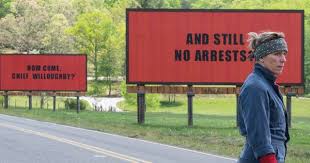 Northampton, England
February 18, 2018 6:53pm CST
So it was the BAFTA's tonight in London, the British Film and Televisions Awards, another pointer to who will win the Oscars. Most of the ladies were dressed in black to make their point on the recent sexual abuse scandals. It's not that they had a choice, sheep coming to mind. As yet no one has been charged with any offence, including Harvey Weinstein. Last year's film festival protest theme was black artist being ignored and next year who knows. None of the precious actors mentioned gun violence tonight. Maybe gun violence next year> I'm sure it will be in the news. Predictably the big winners reflected that injustice with Frances McDormand wining for Best Actress for Three Billboards outside Ebbing, Missouri, a true story of a very pi**ed off woman who is not going to take it anymore. Sam Rockwell picked up Best Male Supporting alongside her in for the same movie. TBOEM also won Best Film. I have not seen it and here it's full on and so looking forward to it. A lot of the big award movies are released late in the year or in January to target those award nominations and so we, the public, don't really get to see them before the critics decide what's best for us. Because of that some very boring films have won the Best Film Oscar of late. Slumdog Millionaire was the last time I enjoyed the Best Picture Oscar winner. THE SHAPE OF WATER also won a few with the rather quietly spoken Guillermo del Toro getting Best Director and Gary Oldman won an expected and rather patriot Best Actor for Darkest Hour as Winston Churchill. The surprisingly tall and glamorous ALLISON JANNEY got Best Supporting Actress for the ice skating movie I, Tonya. THE HANDMAIDEN (Park Chan-wook, Syd Lim) won Best Foreign language film and I am Not your Negro (Raoul Peck) won Best Documentary. Most of these films again deal with oppressed people by white people. The Black Panther was released too late to chase awards, of course, although may win next year on those harmony race rules. The brilliant Get Out is Oscar nominated on the 'let's get black faces in film' mantra and the first film to be nominated for an Oscar that was released in February since 2009. If you want to win awards then don't realises your film now. It will be forgotten
5 responses


• Los Angeles, California
19 Feb
The BAFTA winners are the likely Oscar winners. Predictable.

• Lake Charles, Louisiana
19 Feb
The reason I gave up watching awards show is that are nothing but shows that only serve to massage the egos of the stars.

• United Kingdom
19 Feb
It was the BAFTA's, but no mention of television, so should have been called the BAFA's. I don't usually watch it, but I did last night. Maybe because Joanna Lumley was hosting it. Same old luvey stuff though and it's nice they can afford the black outfits with the badges to go with it. As for the films, I haven't seen any yet, and hadn't even heard of 3 Billboards until last night, but it's probably the one I most want to see.

• United States
19 Feb
I loved "3 Billboards..." , and Sam Rockwell - loved him in "Moon"