Parfum: Love of Attraction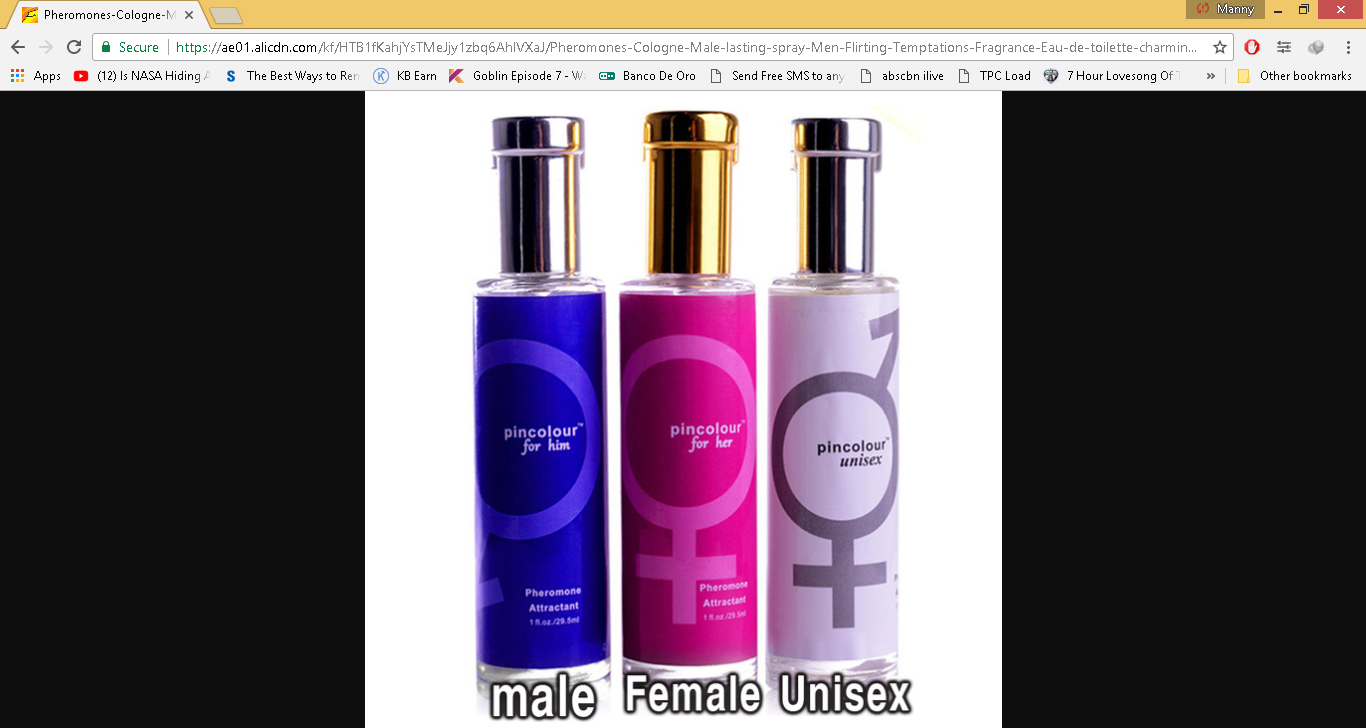 Philippines
February 20, 2018 3:21am CST
Smell of your scent that makes appeal and coming for you. Let's talk about that. Good day, its Show Time... Miketagz Again. Thanks for all likes, suggestions, comments, and to those who are following me, I'd really appreciate it guys. Love it. It's not meant to become alone, but for starters introducing...
Parfum
... It's not just an ordinary parfum. It's
Love Parfum
... This sounds convincing but it claims to attract everyone by spraying in any part of your body. Although there's a chemical added to ingredients known as... "
Pheromone
" For more detailed information, see how it works on the link provided below... Again, this chemical substance are made of all kinds of molecules and will determine through smell. The Scientist's goal for making this is because to prompt some kind of any reaction by means of behavior. If someone notice you by smelling it then you are cursed like "Hi Boy, you are handsome, what's your name?" or "Babe, we met before don't you? Can we go somewhere?" Time for Trivia Fact: Don't you know that this substance doesn't exist until 1959 was discovered by German Chemist named "
Adolf Butenandt
" create his first owned pheromone called
bombykol
made from female silkworm moths to attract mates. Now we learn something that parfums might or might not effective if you are finding for a true date. Chances are little, but who knows, might parfum is worth it if you really want to risk it. The big question is, Does parfum make you fall in love after applying in your body? Raise your hands and write on your reactions down below if you experience it. Thanks again for reading guys. Have a wonderful day. Adieu


Ever wonder if there's something about your scent that might be sending signals to the people around you? Well as it turns out, it's possible- but it winds u...
8 responses

• Switzerland
20 Feb
I have seen this kind of "love perfume" since I was a teenagers. Of course it does not work and you do not fall in love after applying, but those who sell those perfumes make money because there are always a few who think "why not to try? What do I risk after all?".





• New Delhi, India
21 Feb
This love perfume is awesome. It is so great.

• New Delhi, India
21 Feb
@miketagz
. So true. What is your favourite perfume?

• Philippines
21 Feb
i don't think so. maybe lust if you smell the scent of the person you love and you want to hold this person in your arms. hahaha!

• Philippines
21 Feb
Hahaha lol that's really rude you know. Your reaction was like "c'mon i have a surprise for you, just a liitle while". This is a dangerous tactic. But be careful some other girls might put you in jeopardy like a modus operandi scheme just what happen to a local artist who visit at hotel and he bring the foods then he didn't expect to bring some guys until he ambushed. He was armless and his eyes we're wrecked. It was seen on TV last 2 years ago I think.

• Philippines
24 Feb
@miketagz
do you think I AM A MALE? i am not. INGRID is a woman's name, and it means daughter.


• Philippines
21 Feb
Reminds me of that commercial I saw yesterday. The boy was using the pink so it means he's gay. he thought he kept it from his dad but he knew the whole time so I think this was a good commercial.

• United States
20 Feb
Oh how I love when you say it's show time. I hear bruno Mars. lol

• United States
20 Feb
I used to wear perfume on special occasions so I hardly wear it. I do wear now body mists which is like perfume every Sunday. Some perfumes can be too strong.

• Philippines
20 Feb
It depends on the perfume's content and if you experience any side effect, then you are allergic. Seek a professional specialist and check which chemical ingredient that might causing you any allergic reaction. The alternative parfum is non chemical based which you can replace it to the store.