I Heard A Rumor Circulating Around That One Is Supposed To Make One's Bed Everyday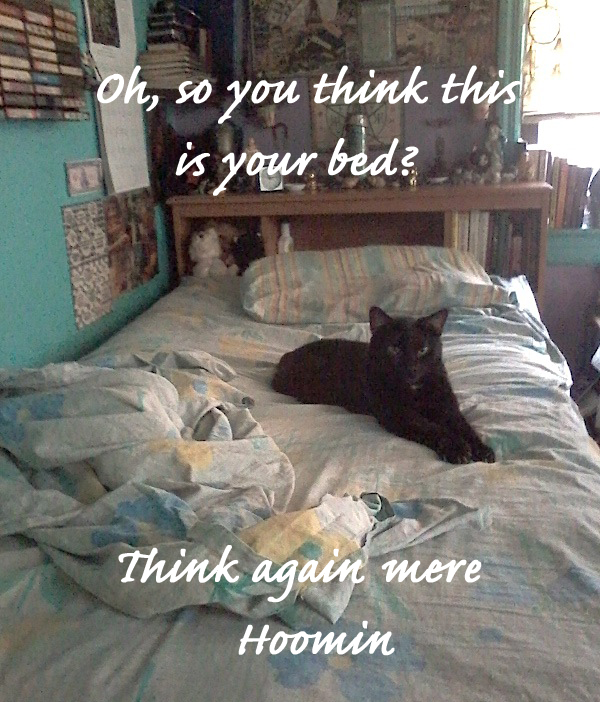 United States
February 20, 2018 7:46pm CST
Yup...so I've been hearing this rumor that one is supposed to make one's bed everyday. Is that true? I had NO idea about that. I haven't made my bed everyday for ages, except of course when I completely change my sheets, but otherwise no. And do you know why? I think the photo I enclose is self-explanatory. That's my cat Ouija who has taken over my bed. A common sight and I have to ask his permission when I want to go to bed. The photo I have here is of his royal highness, Ouija on my bed. I added the captions which reflects his "dominion" and possession of my bed.
5 responses


• United States
21 Feb
@toniganzon
Who is that feline there?...and I see is helping you with your computer

• Philippines
21 Feb

• United States
21 Feb
Scar sed you spelled "Hoomin" wrong


• United States
21 Feb
@JolietJake
Ouija told me to change the photo..hoomin is now spelled correctly



• St. Catharines, Ontario
21 Feb
Sometimes I would throw the blanket over Harmony. She didn't seem to mind.

• United States
22 Feb
My Ouija's the opposite...he doesn't like to be under the covers/blankets at all

• United States
23 Feb
screw that.people shouldn't be in my room anyhow. as if i could get the kids to move long enough anyway..