Nurdle News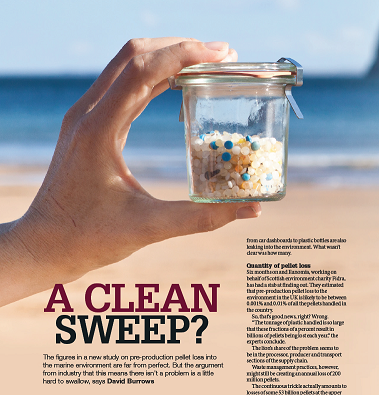 Carthage, Tunisia
February 24, 2018 3:02am CST
Been down to the nearest shore recently? Seen any little coloured dots or pellets of plastic on the sand or shingle? Those plastic pellets are nurdles. They don't decompose. They don't degrade. They are a threat to any shoreline and the natural wildlife that lives there. And there are oodles of them polluting our oceans, lakes and waterways. Collect those nurdles, and then find out where you can safely dispose of them. Before it's too late. PS. Those of you who thought "Kenneth Williams" on reading the title are ok in my book



WHAT ARE NURDLES? Nurdles are small plastic pellets about the size of a lentil. Countless billion are used each year to make nearly all our pla...
8 responses

• United Kingdom
24 Feb
I rarely get the chance to go to the seaside. There is quite some push regarding plastic waste at the moment. I have seen some very innovative means of turning this waste plastic into other things like building blocks, clothes, road covering. The culprits are the thoughtless people who do not dispose of their rubbish responsibly!

• Carthage, Tunisia
24 Feb
Arts and crafts make a fine way to use up such materials, but not really a viable long-term solution. Like shredding old tyres to make all-weather sports pitches, fine until some 15years later when a link between increased cancer rates is tied back to the chemicals released by such surfaces (read about a German football club that studied the rise in cancer rates amongst those who trained on the original pitch vs those who were brought up with the artificial one)...


• United Kingdom
24 Feb
@pgntwo
Hmm oh dear that is a terrible indictment. It seems that the things that have been produced by man to ease our lives in turn out to harm us and the environment!

• United Kingdom
24 Feb
@pgntwo
Absolutely. Funnily enough we were only talking about this earlier and about how glass was all recyclable when we were young and how we as kids used to collect all empty bottles returning them to the shop who would give us money back on the bottles irrespective of whether we had bought them. Coke bottles were a pretty good earner for kids!


• Daytona Beach, Florida
24 Feb
I don't get to the shore that often. Thanks for sharing this. I see there is a bit about these online so I will read up on them. Another disaster concerning nurdles. Here is the link

South Africa is struggling to clean up billions of tiny plastic pieces, known as nurdles, which have coated 2,000km of coastline.


• Carthage, Tunisia
24 Feb
@LadyDuck
Using the cheapest is not necessarily always the best. I agree, some products should be banned, in the same way that certain gases are now banned (refrigerant and propellant gases that never decompose, chlorofluorocarbons are one such family of substances that are now controlled).


• Bunbury, Australia
24 Feb
Thanks for the info and the link. I've never heard of nurdles before although I know there is a huge amount of plastic waste in the ocean.

• Bunbury, Australia
3 Mar
@pgntwo
It is just amazing sometimes to see how much plastic filth turns up along coastlines and river banks.


• Aurora, Missouri
6 Mar
Hmmm... I've never seen them in or around the streams, rivers and lakes in the Ozarks, pgn. Hang on a minute... Nope, not a single article reports nurdles in the Ozarks. It is strange, though... They are manufactured in the United States but the entire world uses them in their manufacturing processes. Ain't that a kick in the tush?

• Aurora, Missouri
8 Mar
@pgntwo
No, there actually aren't any around here, or at least not at the lake Pretty and I swim in. We were there today, uhhh...

being cheap, if you want to know. (That drive makes a nice trip when you just want to get out but have no place you need to be.) We actually scooped up some sand to add to an above-ground garden bed we are making. I found some slivers of broken glass in the sand, but no miniature plastic balls. (Four 5 gallon buckets worth of sand is now in the bottom or our raised garden bed.

)

• Carthage, Tunisia
8 Mar
@DaddyEvil
Well doesn't that just take the biscuit! I dunno how many millions of times I've read stuff that turns out just to be an exaggeration...

Good that you took the opportunity to haul some buckets of lake sand back for your raised beds. Even better to hear that no evidence of nurdles or even smaller microbeads was found, it is of concern in Ireland as runoff from waste treatment enters our rivers and lakes.

Scientists at the Marine and Freshwater Research Centre at the Galway-Mayo Institute of Technology are trying to find out how plastic pollution is impacting ...


• Canada
24 Feb
I've been to the "seaside" almost daily die the last three weeks....Nurdles? I suppose they could be under the ice....

• Philippines
24 Feb
I'll try to pick them when I go to the beach next time. So far I couldn't remember seeing them in the beaches I've been to.