Would you check-in in a space hotel if you have the money?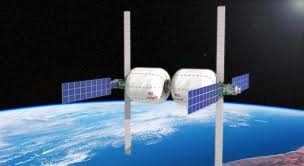 Philippines
February 28, 2018 5:56pm CST
Space tourism will be in reality next year if Virgin galactic test flight this year is successful. Blue origin is aiming space tourism as well. Bigelow Aerospace is the manufacturer of inexpensive hotel capsules. Cheaper than ISS (international space station). Going to LEO (Low earth orbit) is getting cheaper and cheaper. So now the fun part. Would you check-in in a space hotel? It's like do it before you die. LOL Below is the video.

Space Hotel as early as 2021 Cost of launch going down ! Who'd thought SpaceX would have such an impact on development of the space economy. The impact of th...
5 responses

• United States Minor Outlying Islands
1 Mar
I believe I would like to do this and look at Earth from a balcony or something near to it! I like the idea of traveling in space and staying at a hotel. I hope they have roast beef and mashed potatoes or french fries with chocolate cake for dessert! I'd like vegetables of the garden variety too with my food. I do hope they have wonderful foods like tacos, sandwiches etc too as well as a hotel stay in space.




• Calgary, Alberta
1 Mar
I auditioned to be on Mars one, 1 reality show where winners will be sent to Mars on a no return mission. So if I have the money, Heck yeah I will be a space tourist and I will being a flat earth theorist with me.

• Calgary, Alberta
1 Mar
@iridion9
Mars One is a different program. It is different from SpaceX. At this moment Mars One is in Limbo due to funding problems. It is originally going to be funded by the creator of Big Brother as his next big reality but it backs off. Space X wanted to return to Earth, Mars one wanted to stay there for Good and make a Reality show with 24/7 streaming.

I made 2 videos about mars one before. After 2 years of waiting for exciting news it's finally time for an update! We take a closer look at the progress the ...

• Philippines
1 Mar