Why do people follow the crowd and cannot just be themselves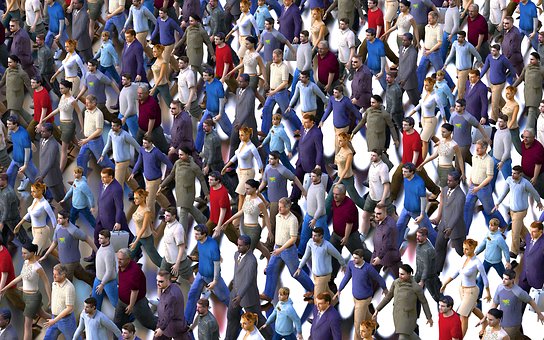 Nigeria
March 3, 2018 11:07pm CST
I like to be original. My individuality is what I treasure. Sometimes when someone likes a page on FaceBook, you see everyone goes ahead and wants to like it. They don't know what it is talking about. When a girl buys a makeup, all of her friends go ahead and buys it; they just don't want to know if it would be good on them as it was on the other girl. I wonder. Why do people follow the bandwagon? Why don't they just be themselves? I noticed that many companies pay huge sums of money to artists and musicians to use their products and show it in an ad or in their facebook page that has lots of followers. I like to identify myself with myself. I cannot buy a product because I saw it on TV. I ask questions first, even if the recommendation comes from my friends. The crowd sometimes might be right, but I don't follow the crowd. Have you found yourself following the crowd even on mylot?
10 responses

• Roseburg, Oregon
4 Mar
I have never been one to follow the crowd Never have and never will. I do my own thing. I have never coped anyone else.

• United States
4 Mar
Im the same as Judy. I've never been a follower.

• United States
4 Mar
@mydanods
eh, would have to disagree but no biggie

• Nigeria
4 Mar
@Courtlynn
Why do you want to disagree? Interested in your answer.


• United States
4 Mar
I am one that has no crowd to follow. I love learning of things from my online friends. I am basically alone these days. about three people in my life. If I head there was a way to save a buck yes I am following. That will for sure save me. But what you mentioned no.

• United States
4 Mar
@mydanods
I am not sure it that is the way it sounds to me as it does to you. Ok if my phone rings and there is free sandwiches on the truck outside. I remain in my house. If there is a %40 sale on clearance items and I can make it there. I am there. I hope that helps you. Thank you.

• Nigeria
4 Mar
@sharon6345
I think I understand it a little bit now with your illustration.


• Corsham, England
4 Mar
I think copying is quite common when we are young. As people grow up most of us want to be different. I had a best friend when I was a teenager and we always wore similar stuff but as time went on we became individuals and chose different things.

• Corsham, England
4 Mar
@mydanods
Yes peer pressure has a lot to do with it when we are young


• Philippines
4 Mar
i usually don't follow a crowd. even in this site. i don't make discussions about some songs, meals, or whatnot. whatever comes in my mind, i make a discussion out of it.

• Nigeria
4 Mar

• China
4 Mar
Maybe they lack of thinking, just go with flow

• Hong Kong
4 Mar
@mydanods
I am a very individualistic person although I could easily be a team player. I'm too old enough to follow the crowd my friend.