Garden Treasures from Templeton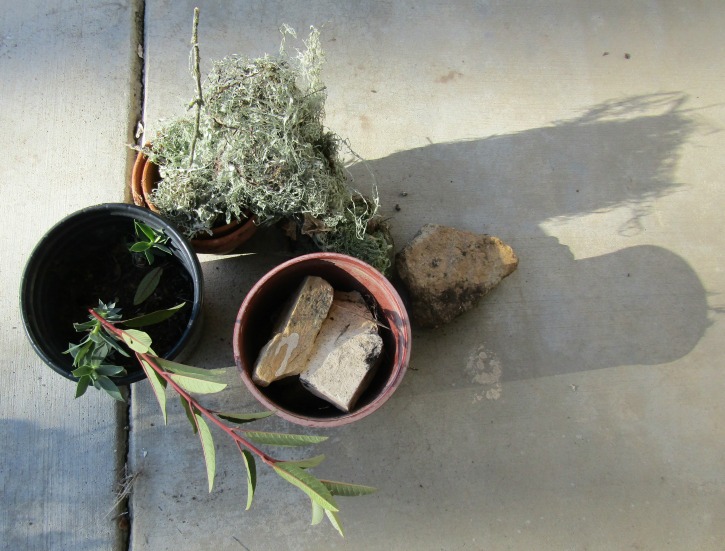 Paso Robles, California
March 4, 2018 2:21am CST
These may not be treasures to you, but this week I've wanted these things, and I knew I had them at the other house in Templeton. So while I was at the other house today to video the separating of the cars, I did two other things. I took a lot of photos of the trees and other things of interest on the property, and I picked up those things I wanted to take home. As I was photographing a fallen pine, I noticed that the Euphorbia rigida plants in my tenant's part of the property were in bloom. I've always wanted some. As I got closer to it, I noticed some lonely looking small children of these plants that were easy to scoop up and take home. I know my neighbor won't care. They are wild plants. She wasn't home, but technically they are my plants anyway. They are in the black pot. The other thing you see in the black pot is a branch of a tree I can't identify. It appeared in the past year or two, but I never noticed it until today. And that's odd, because I do a photo inventory and inspection of the trees about twice a year. I've never seen this tree before and it's taller than me and quite wide. My first impression is that it's some sort of willow tree, but we are in a dry climate and I don't irrigate. Most willows like lots of water. I can't seem to identify it online. Does anyone know what it is? I also brought home some of the many rocks on my property. They are great weights for holding down row covers when frost is expected. I'm now using them to replace the cans, pots, and VCR tapes I was using to hold the row covers down. They look more natural. They also make nice barriers to smother weeds and keep plants from spreading into each other. One of the other pots is full of Spanish moss. It grows on almost all our trees, but I can't reach most of it. I picked this up on the ground. It comes in handy when I plant in containers. I also wanted to bring the flower pots home, so this worked out well. I did use a small box to carry more rocks home. It has many uses in the garden. I wish I could have filled some sacks with the rich compost I've been making for years, but I just wasn't up to it. What I did made me tired enough, and I still had to shop on the way home. I had spent a good hour working in the garden at home before I left for the other house. I fed most of the rest of my irises and cleared some weedy grasses and unnecessary gazanias from around an almost smothered carnation, and I fed the carnation. I didn't finish all I wanted to because Dave came earlier than I expected and I had to rush to the other house. When I got home, all I wanted to do was collapse in a chair and rest for a while. I think I'll go to bed now and get some sleep. I'm happy with my day and glad to finally have brought home what I wanted to. Are there things you treasure that might not seem very special to someone else?
3 responses

• Green Bay, Wisconsin
4 Mar
It's not a willow. We have a lot of willows here, and that's not a willow. I hope someone can tell you what it is. You did a lot of work and I hope you got some good sleep. My treasures are some knickknacks and furniture that used to belong to my parents and grandparents. My kids will be getting rid of it all when I pass. They don't want it.

• Paso Robles, California
5 Mar
I guess most young people today don't value the things we used to. Take silver and China, for example. Before I got married we made a big deal out of picking our patterns and registering them. Back in the day a bride was expected to be able to set a formal table with sterling, China, and crystal. Today many brides don't want the bother of polishing and hand-washing that such treasures require. most people I know are fairly informal and if they have those things, you only see them on holidays.

• Green Bay, Wisconsin
5 Mar
@bagarad
I could never afford a formal table setting. It was years before I started collecting a piece at a time from the grocery store, and it's stoneware and like Mom's china, only comes out for holidays. I still have all the pieces intact, not even chipped, like my other every day dishes have nicks out of them. I didn't get Mom's china when they passed. I don't know who has it.

• Paso Robles, California
5 Mar
@just4him
I was fortunate. My grandmother's first cousin was like a fairy godmother to me, taking the place of the grandmother who lived in Oklahoma that I only saw twice in my life, though she prayed for me every day. Anyway, she left me silver service for twelve. Friends of my parents saw that I got the china and glassware I'd picked out. My friends gave me the practical things for the kitchen at a shower. Today many people set up housekeeping long before they get married, so they already have purchased much of what they need.


• Bunbury, Australia
4 Mar
There are many things I treasure that mean nothing to anyone else. I'm glad you were able to retrieve some of yours.

• Paso Robles, California
5 Mar
I'm quite sure they'd mean nothing to anyone else.

• Bunbury, Australia
6 Mar
@bagarad
That's what I think about decluttering sometimes. The things I'm hanging on to won't mean anything to the next person - so they'll be easier for them to chuck out than for me to, won't they?

So perhaps I'll just keep everything.


• Paso Robles, California
6 Mar
@JudyEv
If I don't declutter a lot now, I won't be able to enjoy our home and do anything productive.



• Paso Robles, California
7 Mar
I think everyone has a unique way to be creative. I would guess you have a lot of interesting branches where you live.