back from hospital after 6 days ..3-4-'18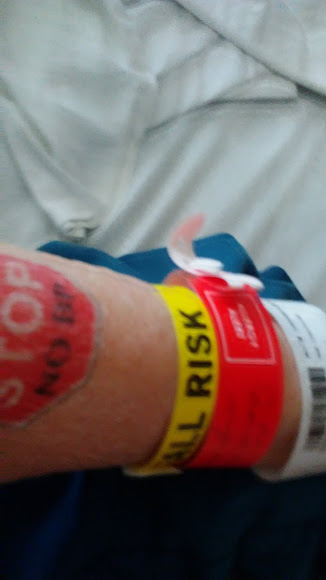 Holiday, Florida
March 4, 2018 8:57pm CST
We had so many appointments to find out what caused my fall that the doctor said I should just go into the hospital and get all the tests. to get it over with. Great plan I thought at the time. Thing is, I had tons of tests But nothing indicated why. Kind of makes me feel like it was all for nothing. Especially since the main things I wanted looked at did not get done. I ended up in fear they was keeping me forever. 3rd day they gave me the wrong antibiotic in spite of all these warnings on my arm.

plus they kept holding me over night because my heart rate would rise too much. Well of course if a person gets anxiety their heart rate goes up. Duh! and I should have known I might catch something worse which I think I did. I might be the only person goes to hospital and come out feeling worse.

So here I am thinking of catching up again. Good thing I was mostly alert as one nurse came in to give me something for my "hemogloben" for a blood transfusion!

Talk about heart rate going up?!! I nearly had a heart attack. Luckily, I told her she needed to check her facts again. sure enough she had the wrong gal here.

Ever been told such a scary thing in the hospital? photo shows my left arm with a temp tattoo and 3 bands ID, allergies, and fall risk.

the tattoo says no BP or IV on that side because of cancer I had years ago. I am quite the mess but still going.

9 responses

• United States
5 Mar
Oh my! So glad you told her to recheck her info! I would've been so scared! Sorry they didnt find out whats wrong

• Holiday, Florida
6 Mar

glad i was alert enough. but i knew i needed to be since daughter had to work and have some rest in between being there so i was pretty well on my own. and more tests are coming


• United States
6 Mar
@bunnybon7
yes best to be as alert as ppssible there. So sorry. Hope they find out soon

• Dallas, Texas
15 Mar
You are a brave person in any case. This thing about fast heart rate, beats per minute reminds me that I too had it bad. 106 was the rate, then I read about how some people have allergies to the effects of such medications as Claratin, which is an OTC antihistamine, which when I don't take it my pulse goes back down to nearly normal. But that day at the clinic, it was so high I realized I would not relax until I got the heck out of there. I hate hospitals.

• Holiday, Florida
15 Mar
yes anxiety adds to it a lot. i have always had fast heart rate . as they say, always high strung

a nap if i can settle down is all that helps these days

• Dallas, Texas
15 Mar
@bunnybon7
, Well, I find that being able to talk to someone in the family about things helps me and spending at least an hour a day outdoors doing whatever I like doing, like planting things in the yard or doing basic maintenance. It is boring to some people but to me it helps with anxiety. Watching the evening news on the other hand, causes much undo stress. So I try to mute commercials and find time to unwind after the news is over.

• Holiday, Florida
15 Mar
@lookatdesktop
i can hardly stand listening to or reading news these days. and unable to get out any more. family seldom has time to talk with me these days but yesterday a social worker came and talked with me and that was great. he helped a lot with concerns


• Portugal
8 Mar
OMG, Glad that you asked the nurse to check again. I understand your feelings about the hospital.

• Holiday, Florida
8 Mar
yes and no matter how sick i get, i don't want to go back. honestly

• Portugal
8 Mar

• Holiday, Florida
8 Mar
@nela13
i did not before so much. most did me good especially the one in AZ. they have a really good one. but here this one is a mess in more ways then one.


• Pamplona, Spain
7 Mar
Goodness and a very good thing that you told her also. They can get things wrong as they have a lot of work sometimes too. Are you okay now? Hope you settle back in at home and you are feeling so much better.




• Holiday, Florida
9 Mar
not really but glad tobe where i get a little more help. feel sicker then before i went into hospital. its like i have a cold that wont quit or the flu with my stomach

• Pamplona, Spain
9 Mar
@bunnybon7
Tummy bug going around here too and perhaps it might be just that. You will be fine Bun always so strong. Have a great weekend ahead.




• Holiday, Florida
10 Mar



• Holiday, Florida
6 Mar
it is and one reason none of us like being at the hospital alone. but daughter had to work some and get sleep. like she said, if i had been unable to respond for some reason, it could have went very wrong.


• Switzerland
6 Mar
@bunnybon7
This is what I was thinking. I pity those poor patients who are alone and cannot reply to questions.

• Holiday, Florida
6 Mar


• United States
7 Mar
Oh my gosh I can't believe you had to go through all that! With getting the wrong medicine and almost getting blood you didn't need I would want to get the heck out of there and never go back!

• Holiday, Florida
7 Mar
yes and now i am determined not to go back. even if i die

• United States
8 Mar
@bunnybon7
that's not good that a place is so bad someone feels that way.

• Holiday, Florida
8 Mar
@shaggin
i know. medical is getting ridiculous these days. requiring more money from us yet having over worked staff that get less pay and therefore sub standard care


• Holiday, Florida
6 Mar
i think most do but after i was there for a couple days its like i got a bunch of over tired none caring nurses


• Anniston, Alabama
5 Mar
YES! that is how the first hospital was that Tony went to, I got him to another and he was done right.

• Holiday, Florida
6 Mar
i just wonder if my doctor can work at the other one? some only work at some i think. daughter said next time we will try another one

• Australia
25 Mar
Oh my! it sounds like you had a lot going on there ..

• Holiday, Florida
25 Mar
yes i always do it seems these last few years

• Australia
26 Mar
@bunnybon7
I hope things get easier for you in the coming years .. I know that as we all grow older, issues with health can't be avoided..