Are you always have alcohol with you?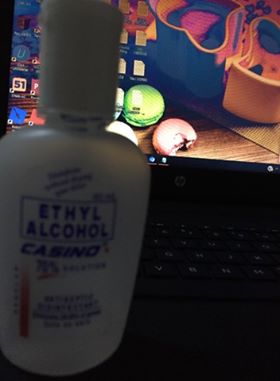 Davao, Philippines
March 7, 2018 2:48pm CST
I do, like everything I touch I always applied alcohol. Ever since I got sick I always have alcohol with me since we are very prone to viruses and other illnesses. Meaning our immune system is not tough anymore to fight germs. But for some, they think of it differently. One time I was in a public jeepney. One passenger asked me to give her fee to the driver which I did and I applied alcohol after. She was smirking at me and uttering words I can tell - she said' I was maarte (persnickety). Why this woman thinks differently. I should have told her about my sickness but since I was not in the mood to bother her, I just told myself that it would be better not to bother her since she doesn't know I'm sick. The photo is mine.
5 responses

• Philippines
7 Mar
At first I thought always having something to drink

sorry anyway I have all sorts of disinfectants around the house and in my person when I travel even though by God's grace I'm very healthy.

• Davao, Philippines
7 Mar
Good to hear that sir
@louievill
. God bless you always.

• United States
7 Mar
@louievill
Drink enough liquor and you might be disinfected enough to not worry about it. LOL

• Philippines
7 Mar
@CoralLevang
haha, a guy that ate too much food with preservatives got mummified






• Philippines
8 Mar
@Courage7
no if ever you say that to the ignorant that she's silly she might even judge you extremely thats how people are here. they criticized so fast

• United States
8 Mar
@Strawberry18
I would closer her mouth very fast



• Philippines
8 Mar
theres a lot like that here bhem dont you notice theyre many of them here. is that how filipinos really like? but even if she thinks that youre maarte is it right that she really needs to show it to you? cant she just keep it herself, a trouble maker

• Philippines
9 Mar
@JustBhem
yeah better just ignore i also encountered someone like that in a jeep also, she gives me a nasty stare shes intimidating very jealous type and insecure. i think shes only around 20yrs old im about 30 at that time. she didnt stop she kept on starring she's only opposite of me. you know insekyora type are troublemakers they just cant accept pag nasasapawan sila very illiterate type, immature

• Davao, Philippines
9 Mar
@Strawberry18
I use to get that one too, but that was when I was in good health. Now, I can't even stare too much at people because I look awful. Lol