Weird Drum Setups that Actually Work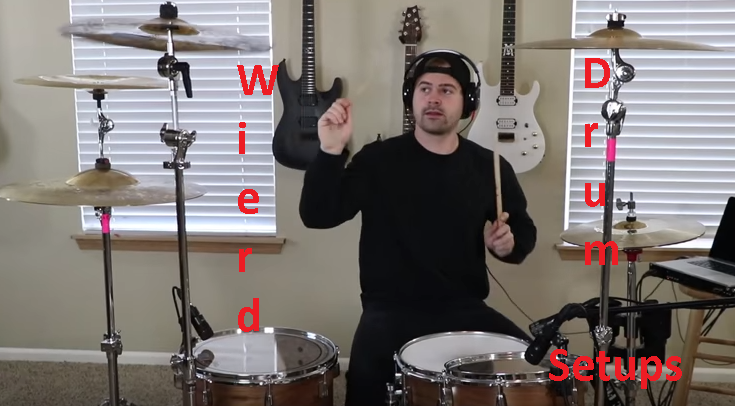 Philippines
March 8, 2018 4:16am CST
Good day! It's Show Time! Miketagz Again! Do you mind to play a drum all by yourself? Yes you do. I love basic hits, but Jared Dines has experimental ways... Unusual but really good setups. He will perform in the following... 1.) Flying High 2.) How Low Can You Go 3.) Behind the Back 4.) Standing Tall 5.) The Inward Struggle 6.) Sleeping on the Job 7.) Programmed Drums 8.) Line Drumming 9.) Going in Circles Base on his styles, I like them all... Would you dare to try? I love to play drums since childhood! Video:

10 THINGS DRUMMERS STRUGGLE WITH: http://bit.ly/2ypxL3P iTUNES: https://itun.es/us/mCbd5 GOOGLE PLAY: http://bit.ly/2syCMqq AMAZON MP3: http://amzn.to/2syNyg...
8 responses

• Philippines
8 Mar
no. i dont play musical instruments

• Philippines
8 Mar

• Philippines
8 Mar
@miketagz
yes im a music lover too i have many songs on my phone that i've downloaded

• Philippines
8 Mar
@Strawberry18
Mine I stored on my laptop and hard drive as well for backup. Anyway nice profile pic.



• Kenya
8 Mar
Let me listen to this and see

• Kenya
8 Mar
@miketagz
yes but since I don't have one, I play plastic basins

•
21 Mar
I have never tried playing the drums so do not know. They are very noisy so could not do them where I live.

•
1 Apr
@miketagz
You are right and they are very loud.


• Redlands, California
8 Mar
Way to high for me, not sure how they do that would be uncomfortable and when have I ever played drums. Never!

More or less saying my opinion is pointless. I do like that laying down one but do not think that would work at concerts.

• Philippines
9 Mar
@crossbones27
Hahah nope, not really works. It's only for fun and entertainment.


• Redlands, California
9 Mar
@miketagz
Its is pretty neat, Good video my friend.

• United States
8 Mar
I do not know how to play the drums, but a lot of people sure do enjoy playing drums.

• Waikoloa, Hawaii
31 Mar
@miketagz
yes and they earn money from that talent

• Waikoloa, Hawaii
31 Mar
nice my favorite instruments is flute and violin

• Preston, England
9 Mar
I can make loud noises on drums but nothing resembling a tune or beat

• Philippines
9 Mar