Netbook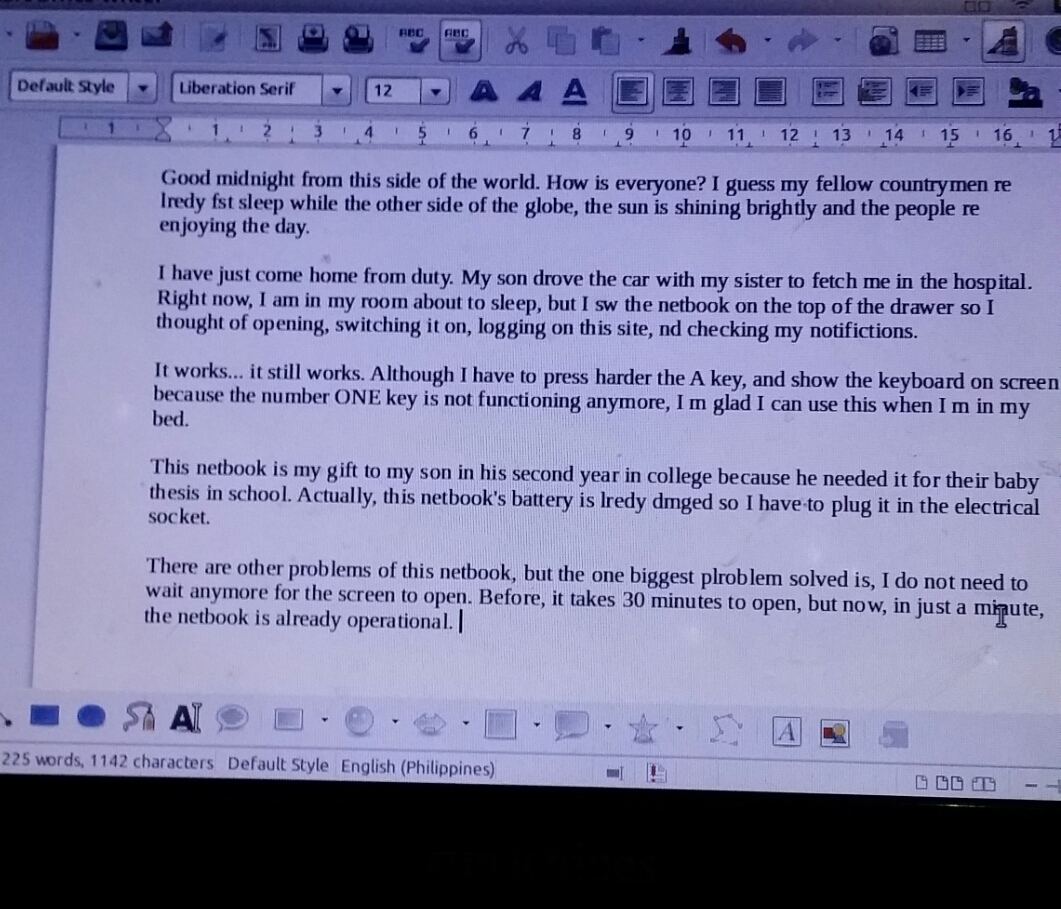 Philippines
March 8, 2018 9:51am CST
Good midnight from this side of the world. How is everyone? I guess my fellow countrymen are already fast sleep while the other side of the globe, the sun is shining brightly and the people are enjoying the day. I have just come home from duty. My son drove the car with my sister and fetched me in the hospital. Right now, I am in my room about to sleep, but I saw the netbook on the top of the drawer so I thought of opening, switching it on, logging on this site, and checking my notifications. It works... it still works. Although I have to press harder the A key, and show the keyboard on screen because the number ONE key is not functioning anymore, I am glad I can use this when I am in my bed. This netbook is my gift to my son in his second year in college because he needed it for their baby thesis in school. Actually, this netbook's battery is already damaged so I have to plug it in the electrical socket. There are other problems of this netbook, but the one biggest plroblem solved is, I do not need to wait anymore for the screen to open. Before, it takes 30 minutes to open, but now, in just a minute, the netbook is already operational. Isn't it nice? Goodnight now, my fellow lotters. See you tomorrow.
9 responses


• Philippines
9 Mar
my son wanted to sell the netbook, but i am a sentimental person so i told him the netbook should be mine now. he bought his laptop from his savings on being a content writer in the net.

• Philippines
9 Mar
@mydanods
why is it so? my netbook works with the plug.



• Philippines
9 Mar
i remember, i and my big brother bought a laptop , a very heavy laptop worth $500 but it did not function as early as 6 months. the laptop is second-hand but then the hard drive was no longer good.

• Switzerland
9 Mar
@ridingbet
It is possible to change the hard drive, but then you have to reinstall Windows and it surely costs more than to buy a new laptop.

• Philippines
10 Mar
@LadyDuck
since that time, there were just a few models of laptops and about 2 stores to fix laptops and computers here, they did not have the hard drive to replace what was in the laptop. yes, they also said the repair costs more than buying a new one.



• Davao, Philippines
9 Mar
@ridingbet
I'm fine. It took a moment for me to reply to my notification because Father uses my laptop.

• Philippines
10 Mar
@JustBhem
oh, so your father is there with you in your house? hope he and your mother are getting along well



• Philippines
9 Mar
good morning. after i made the discussion, i had to log out and switch it off, pulled the plug, and slept. now, i can make my discussions and comment as well while i am in my room.

• United States
9 Mar
@ridingbet
I leave my laptop plugged in all the time unless I carry it into another room. Have a good day! Heading to be!

• Philippines
10 Mar
@DianneN
won't your laptop get so much heat? but i think not, because you live in a place where it is still cold.


• United States
8 Mar
So glad the biggest problem has been solved!!! Wishing you a good night!

• Philippines
9 Mar
yes, and i hope it will be on without any hitches next time i open it again


• Philippines
9 Mar
welcome. i hope your laptop is still operational.

• Germany
11 Mar
@ridingbet
yes, it is still. I just use it when I upload videos to my youtube channel from my video camera.

• Philippines
15 Mar
@thelme55
right now, i am using my netbook and it has no more switching on problems. i also was able to solve that problem of opening a link to a new tab, by pressing the bar (below the space bar) at the left corner. i am ashamed to ask my son last night while he was at the toilet so i discovered the colution myself.


• Philippines
11 Mar
I am a sentimental person too especially if its a gift, i treasure it much... You can use an external keyboard to be connected on one of its usb port. Or a wireless keyboard but costs a little more expensive than the wired one.

• Philippines
14 Mar
my son has the wireless mouse and i can use that as well.

• Haldwani, India
8 Mar
Good night Sweet dreams.. Take care