Louisiana State Police officer returns a wallet that was lost to his owner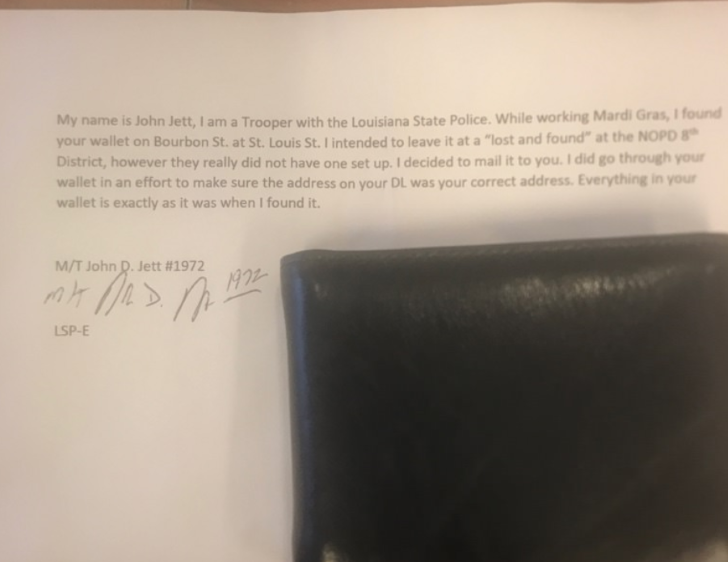 Lake Charles, Louisiana
March 8, 2018 5:15pm CST
Reddit use who goes by the name Wardo613 attended Mardi Gras in New Orleans this year when he lost his wallet. A Louisiana State Trooper named John Jett found the missing wallet and after he confirmed the name and location of the owner of the wallet, he paid out of his pocketbook the postage to send the missing wallet to its owner. Social media sites have had a field day reporting the good news of the trooper who sent the wallet to his owner which is some good news that there are good police officers on the force today. Wardo613 plans to repay the kindness of Officer Jett by sending him a pizza as his reward for sending him back his wallet with all of cash still in it.
5 responses

• Green Bay, Wisconsin
9 Mar
That was wonderful for the officer to do. It is good there are honest people out there.

• Lake Charles, Louisiana
9 Mar
That is true if the officer did not pick up the wallet and it had been another person, the other person would not have returned the wallet much less the money.

• Green Bay, Wisconsin
10 Mar

• Lake Charles, Louisiana
16 Mar
@just4him
That is true since what the odds that a policeman finds a wallet with money during a parade? Not much to put it mildly.


• India
8 Mar
Yes, he has done his duties ! In India though we have many criminals we also have some honest common people like Auto Rickshaw drivers, Cab Drivers or shop keepers who have returned valuables to their owners without any anticipation. For that matter when I was in my college I found a currency notes made into a bundle with the help of rubber band. I picked up the bundle and waited there for half an hour or so, only to return it the owner who came searching for the same. Of course, confirmed that he is the owner by asking him few questions. So, I think this is a part and parcel of one's duty and and one should return if anything found if the owner is traceable as a courtesy! Thanks dear friend
@Deepizzaguy
for the positive post! Stay blessed!




• Lake Charles, Louisiana
10 Mar
My pleasure to report it since what are the odds of anyone losing a wallet at a carnival and having a police officer find it and return it to the sender? Slim.

• India
10 Mar
I thought being a police man he should conduct his duties diligently and he should return the wallet if there is any address available
@Deepizzaguy
! May be if some other person if involved then the picture could have been the different one, as you are saying! Thanks!



• Lake Charles, Louisiana
16 Mar
@AKRao24


• Redlands, California
8 Mar
I like this, would be cool if we all started sharing the good stories also. Maybe people would feel better. I get we have to share the bad so people can stay safe, but lets throw some good in there too. Well done buddy.

• Lake Charles, Louisiana
8 Mar
My pleasure to share good news on this site. I usually find good news from MSN Good News or the 1st Headline News sites.

• Redlands, California
8 Mar
@Deepizzaguy
Amen, always in the small boxes and never the leading story. Would be nice if they did it like that and then say but we also have to report this.

• Lake Charles, Louisiana
10 Mar

• Los Angeles, California
9 Mar
He was performing his duty.

• Lake Charles, Louisiana
12 Mar
That is correct. Officer Jett is one of the good guys.

• Cuyahoga Falls, Ohio
9 Mar
That was kind of him.


• Lake Charles, Louisiana
10 Mar
It was nice of Officer Jett to return the lost wallet to its owner.

• Cuyahoga Falls, Ohio
10 Mar

• Lake Charles, Louisiana
16 Mar
@KristenH