Alexa's creepy laugh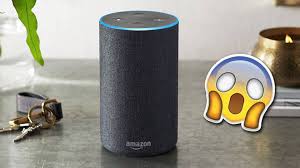 Guangzhou, China
March 8, 2018 7:22pm CST
Alexa is a name of Amazon's Echo Dot which is a smart speaker. I have an Echo Dot 2 at home and it is cool. Lately some users said their speakers will have creepy laugh randomly at night. But I haven't experienced this creepy random laugh at night yet. It may be a bug. Amazon said it will be fixed when you upgrade it.
8 responses

• Anniston, Alabama
9 Mar
They want you to pay for it to stop?


• Corsham, England
9 Mar
I've always fancied one of these. I don't know if the creepy laugh would put me off but if they want you to upgrade they're trying to get more money out of you.

• Corsham, England
9 Mar
@youless
I could probably cope with that then. I don't think the laugh would bother me too much.

• Guangzhou, China
10 Mar
@sprite1950
It will be different that it made the creepy laugh at night suddenly.

• Philippines
9 Mar
I don't own one so I don't think I'll ever hear that creepy laugh.

• Philippines
10 Mar
@youless
Yeah I read that from your discussion. But I'm fine with what I have. Nothing can convince me at the moment to get that one.


• United States
9 Mar
it's probably being hacked and they just aren't saying. people were doing that to wifi enabled baby monitors for awhile.

• United States
9 Mar
The creepy laugh sounds kind of amusing!

• Roseburg, Oregon
9 Mar
I heard about that on the news last night. I do not have or have a need for one.