Mad As a Hatter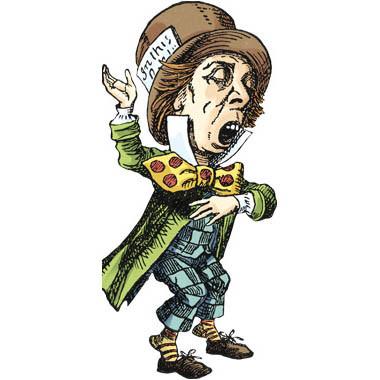 Daytona Beach, Florida
March 10, 2018 12:04pm CST
This term has been around a long time and many people think that it came about as a result of the Mad Hatter character in "Alice's Adventures in Wonderland" by Lewis Carroll. However, this is not true. Mad as a hatter comes from the poisonous hat-making industry in the 1700s and1800s. You are probably wondering what poisonous hats are. Well, those days workers used a toxic substance known as mercury nitrate in order to turn fur into felt lining for hats. Since for many workers this meant prolonged exposure to the toxins they began to tremble and hallucinate. This condition became known as hatter shakes and as a result the idiom mad as a hatter became popular. Tragic but true. Do you know anyone who you could say is mad as a hatter, without the shakes and hallucinations, just strange?
9 responses


• Daytona Beach, Florida
11 Mar
I always say I am still crazy after all these years and proud of it
@Courage7
just makes life much more interesting.


• Bunbury, Australia
11 Mar
That's very sad. My folks sold rabbit skins that were later made into hats but not in those early days obviously.

• Daytona Beach, Florida
11 Mar
Yes, I think it was a shame to make people work with such toxins
@JudyEv

• Bunbury, Australia
12 Mar
@RasmaSandra
Lots of terrible things back in those days - and nothing much has changed in lots of ways. We still treat our fellow humans very disgracefully sometimes.

• Los Angeles, California
10 Mar
I see a mad hatter every time I look in the mirror.

• Daytona Beach, Florida
11 Mar
and I am always Alice living in my wonderland Shall we have tea?
@JohnRoberts

• Los Angeles, California
16 Mar

• Pamplona, Spain
10 Mar
I can think of one or two or maybe three but being how I am I won´t mention them. Just for their sake I let them be as mad as a hatter as they can be. Its just the right month as well.

• Daytona Beach, Florida
11 Mar

• Pamplona, Spain
11 Mar
@RasmaSandra
It seems like that this Month people´s feelings are a bit over the top.

• United States
10 Mar
Thank you for this. I never new about that mercury nitrate was used and the ill effect in had on humans. My mom could become mad as a hatter at times.

• Daytona Beach, Florida
11 Mar
For my mom, she had no choice. Toward the end, she had sclerosis on the brain and kept asking me about my youngest and oldest sisters and I was an only child
@Corbin5

• United States
11 Mar
@RasmaSandra
My mom had dementia, and in the early stages, she would get very angry. She was frightened and plagued by hallucinations, but once we acquired the right care for her, the medications calmed her down.

• Austin, Texas
10 Nov
Oh! I know somebody! ME! LOL. People think I'm strange.


• Daytona Beach, Florida
13 Nov
I am different too and I love being different or strange makes life more interesting
@cmoneyspinner