So why is the £20 the most faked note in Great Britain?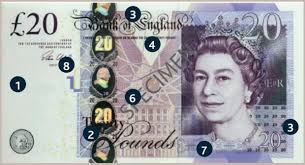 Northampton, England
March 11, 2018 4:52pm CST
In the United Kingdom we have a £5, £10, £20 and £50 notes. In the United States they have $1,$2 $5, $10, $20 and $50 and $100 notes in circulation. I do not wish to discuss the Europe although they have similar denominations. The Royal Mint that makes our money estimated that about %2.5 of £1.6 billion of our old One pound coins were fake/copies, why they introduced a non round more sophisticated 12 edged coin to replace it. If you are interested it cost 4 pence in machinery and materials to make a modern one pound coin and 7 pence to make the new plastic 5 and 10 pound notes. But my question for you today is why is the twenty denominations of the dollar, Euro and British pound note the most counterfeited note of these three currencies?
5 responses

• Northampton, England
11 Mar
you can do better than that smarty pants

• Tripoli, Lebanon
11 Mar
@thedevilinme

OK. It's the highest denomination note in common circulation... ( Altho' the 50 euro note is more commonly seen than the 50quid note.)

• Northampton, England
14 Mar
@pgntwo
IF You hand over a fake £50 then staff become wary and more likely to check it. If you hand over a twenty pound note they are less likely to check it out but, more importantly, fakers buy something for 50p and get a legit £19,50 in change. That is why



• Northampton, England
14 Mar
Fakers use 20s as they get the most legit change from them


• Defuniak Springs, Florida
11 Mar
Its gotten so bad here, they are even making fake fives and ones.