E-Cigarettes- Do You Vape?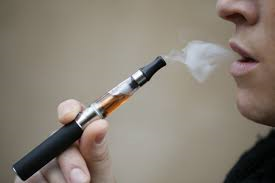 March 13, 2018 4:56pm CST
Do you know what vape means? Are you familiar with someone who partakes in this habit? Vaping is the term for using e-cigarettes as an alternative to actual smoking. What is your opinion of using e-cigarettes? Do you feel they are harmful to your health? Are they really safer than smoking? Photo- time.com
10 responses

• Banks, Oregon
14 Mar
No but been thinking about it with herb.

• Colorado Springs, Colorado
13 Apr
Nothing like a good dab or hit of shatter!

• Okotoks, Alberta
13 Mar
I tried vaping to quit smoking but it never worked sadly. I have friends that do it as well...but not my kinda jam

• Canada
13 Mar
Ive tried it also, but I always returned to the real thing.

•
15 Mar
Yes, I do wonder about how many are really helped by switching to Vaping?

• Canada
16 Mar
Never smoke and no one I associate with does so don't know much about it. I have read that vaping is no safer than smoking though.

•
17 Mar
From one non-smoker to another you are correct in what you read. There are harmful chemicals in e-cigs.

• Bunbury, Australia
14 Mar
I don't know a lot about it but it does seem to be much better than smoking.

•
15 Mar
I guess we could say it is the lesser of two evils


•
13 Mar
I vape but I used it to quit smoking rather than becoming glued to the e-cig! Some of my friends seem to be permanently attached to their vape device! I just pick it up have a puff then put it away for a while. I vape less than I smoked and I've reduced the strength so I'm happy with it for now but I do intend to quit completely.

•
15 Mar
Well, you have better will power than your friends.

It would be advisable to quit altogether since it is addictive and contains harmful chemicals.

•
15 Mar
@dgobucks226
I think too many just replace one addiction with another!

•
16 Mar
@dgobucks226
I can honestly say this has been the easiest way to quit for me! I did start with the highest possible nicotine e-liquid. and work down gradually though! Tried everything in the past from gum to patches but never had any success!


• Vancouver, British Columbia
25 Jul
Vaping is pretty simple. You just use this cool-looking apparatus called the trick tank, in which you fill the liquid which is commonly called e-liquid. Now, the e-liquid is heated to form aerosols which generate a lot of smoke. The liquid is made up of nicotine, glycol, and other variants. There are different recipes which could be created based on the proportion of ingredients and flavorings. It has turned into a niche of its own and the industry is blooming. Vaping has turned out to be a habit which I developed while trying to curb my addiction to smoking. If you're inhaling something to your lungs, it's messed up and harmful but certainly safer than smoking. In Canada, we have multiple ejuice wholesale stores from various vendors. People are constantly experimenting and new recipes (and flavors) are being introduced to the market. I have a personal favorite, check them out and you'll get an idea of what it's like.


• Vancouver, British Columbia
26 Jul
@dgobucks226
That pretty much sums up what I wanted to convey.

• Manila, Philippines
20 Mar
I used to smoke but never did I want to try vape because I feel that it is time consuming when you fix it and second for hygienic reasons.

•
20 Mar
Yes, vaping is not a cure for the harmful effects of smoking.


• Los Angeles, California
16 Mar
I have never smoked so naturally never vaped either.

•
15 Mar
Well, it is on the market so yes it is approved by regulated.

• Colorado Springs, Colorado
13 Apr
I spent over a year vaping. I love it, but won't go back to it until they solve the popcorn lung and exploding battery problems.