Shocking!..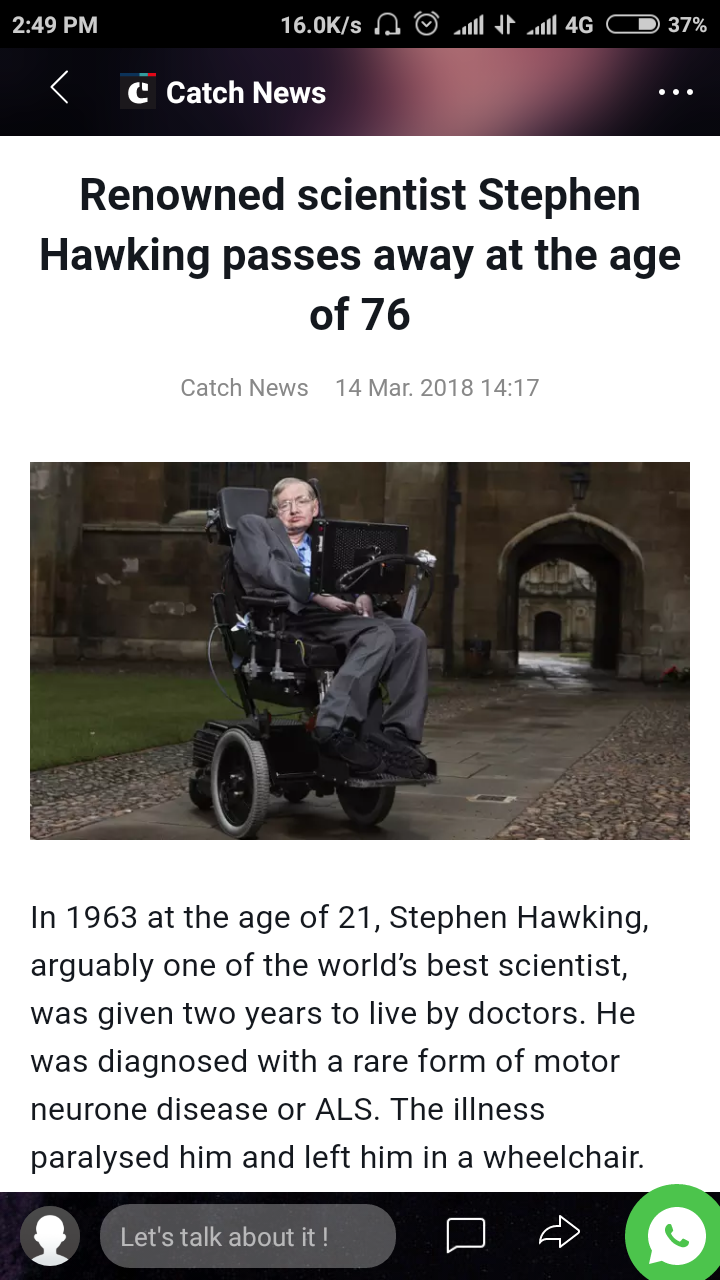 Haldwani, India
March 14, 2018 4:23am CST
I been shocked to see the headline of UC news tab that was "Renowned Scientist Stephen Hawking passed off".. As he had been a great inspiration for many of the people.. and he has took the cosmology to a new level. He had explained my theories including black hole, and milky way galaxy, and nebula concept. He is a great astrophysicist.. Its been shocking for many to listen about this sad news...
8 responses

• Ahmednagar, India
14 Mar
I am too shocked when I just wake up in the morning and got notification from TOI. RIP


• Haldwani, India
14 Mar


... Hows the day..by the way?..

• Ahmednagar, India
14 Mar
@mohit459
it was good and now its 2:09am still not feeling sleepy


• Haldwani, India
15 Mar
@Raj7779

... Ya it's common when you talk with gf!..




• Waikoloa, Hawaii
15 Mar

• United States
14 Mar
He will be missed for sure.

• Canada
14 Mar
Yes it is. I am interested to know what his last words were as he left his body or what he was thinking at that moment. I know that he was an atheist. :-)

• Haldwani, India
14 Mar
I don't read the article yet...I just have read the tagline only..

• India
14 Mar
I heard about it after coming to the office. Feeling sorry for his family. We have lost such a great man,


• Cuddalore, India
14 Mar
I too got shocked on hearing this news from Television.

• Haldwani, India
14 Mar
Ohh... Ya...he was very great Astrophysicist