The Almost Moon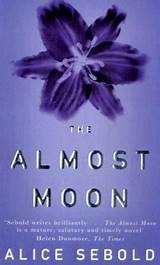 United Kingdom
March 14, 2018 5:19am CST
This is the fictional story of a woman who has never felt loved by her mother. It is a very sad subject for a book because the woman in the story ,Helen Knightly, has loved her mother all her life. She spent years trying to get along with a mother who just did not care about her. It is a harrowing story with a tragic twist in the tail at the end.
9 responses

• Daytona Beach, Florida
14 Mar
Sounds like an interesting but tragic story. I will take a look for that book. Thanks for sharing.

• United States
14 Mar
I am not sure if I have read this one. I have read quite a few of Sebold's books but I might have missed this one. It does sound like a good read.

• United States
15 Mar
@millie02
I read The Lovely Bones too. I would like the one you mentioned here.

• Philippines
14 Mar
evil mother hope she goes to hell

• United Kingdom
14 Mar
Well it did not sound as if she had a very good life. She was a sufferer of many horrible diseases, widowed young and had dementia in old age. Her poor daughter had to look after her and always put her first despite feeling unloved.

• Philippines
14 Mar
@millie02
some people dont have much patience of all because of too much burden in life but she has to still love her only daughter thats there for her

• United States
4 Oct
It is a sad story that is mostly NOT based on fictional but factual relationship problems between moms and daughters




•
14 Mar
A mother was a child in her life; we don't know what she went throughin her childhood.