The Antique Buyers Handbook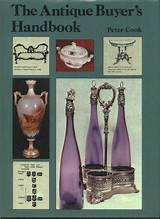 United Kingdom
March 18, 2018 4:26am CST
I have owned many of this sort of book and although they all have nice pictures, many of them are not full of very much information apart from names and dates etc. So when I found this book amongst a box of books that I brought at auction I thought it was just another one of those books . I placed it on the bookshelf and left it there. Last night I thought that I would have a look through this book as I had not yet done so and I was glad that I did. It is a lovely book to read and learn from with much more information than other books of this genre.
7 responses

• Hungary
18 Mar
I am interested in this book. Could you share some details about it?

• United Kingdom
18 Mar
It was written by Peter Cook in 1993 and published by Parragon Books. I do not know if it is still in print , but I have looked online for it and I have found a used copy of it on Ebay. Like I said, I brought mine in a job lot in an auction, so perhaps you could try to buy a copy at auction, but then you might also have to buy several other books that you might not want. Another place where you may find a copy would be in a charity shop or any other place that sells used books , such as car boot sales if they have them in your area.

• Hungary
18 Mar
@millie02
I've check the book, unfortunately it wasn't published in Hungarian. But I found copies on Amazon, I think I will buy it. It is cheap and it sounds really interesting! Thank you Carolyn!

• Hungary
19 Mar
@millie02
I will ask my relative to let me deliver the book to his place, because he lives abroad. Then the postage will be almost nothing. I am interested in antiques, and I'd like to do it as business one day. The whole world of antiques and collectors is amazing for me. But I know that I have to study a lot to be able find and recognize the items. Now I spend most of my free time with studying this art. Are you an antique collector?

• Bunbury, Australia
20 Mar
I'm sure there is a lot of information about the various items. I have a few small antiques but know nothing about them.

• Bunbury, Australia
21 Mar
@millie02
I have small items that were my mothers' - a buttonhook, a butter stamp, cut-throat razors, a few ornaments, a darning mushroom - things like that.


• United Kingdom
18 Mar
I would say that it is a very useful book for anyone who is interested in collecting antiques. It covers subjects like glass, silver, ceramics , furniture etc. The book gives information on makers names and marks to look out for. It does not give any values of the items , but this is a good thing because values often change depending on the economy and what is in fashion at any time. As this book was printed in 1993, a lot has changed with some items being worth less , and others being worth more than when the book was printed.

• Los Angeles, California
18 Mar
It makes for a good reference work then.