Another Great Man Gone on to Heaven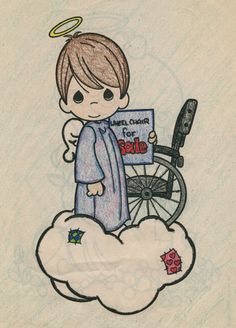 March 18, 2018 9:31pm CST
Yesterday morning, we got the sad news that one of our friends had gone to be with the Lord. He had been struggling with cancer which was diagnosed last summer. His life was one miracle after another. He was not suppose to live more than a few minutes after birth. He was born with cerebral palsey, among other health issues and was just barely over a pound when he was born. He lived to be in his mid forties. His parents took him to specialist and tried many programs to help him one day walk, but that never happened. He was never suppose to live a normal life. His issues affected physical and mental health. But he defied the specialist. Even though confined to a wheel chair, he held down jobs and was successful. He got married, had 3 kids, became a preacher, and ended up teaching in a Bible college. He amazed all who knew him. As heartbreaking as it is that he is gone, he is now walking....No...I bet he is dancing around heaven. I wonder if he has seen my dad yet. My dad was the principle of the Christian school we grew up in. Paul was the first student I ever tutored. I was only a preteen and he was in elementary school. My mom used to babysit him before he started school. It is so hard to believe he is gone, especially at such a young age. But there is comfort, and his family conveys this as well, in knowing he is in perfect health and praising the God he loved so much. Incidentally, he married my cousin, so that makes him family as well.
8 responses


• United States
20 Mar
How amazing he lived so much longer then expected. Although he was never able to walk he sure accomplished a lot and sounds like he did have a pretty good life otherwise.

• Philippines
20 Mar
So sorry for your loss. Prayers for him and for the family and friends he left behind.


• Fairfield, Texas
19 Mar