Happy Monday!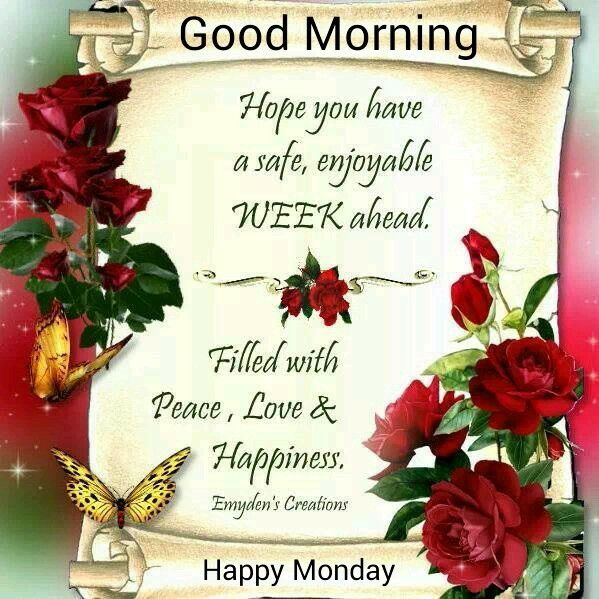 United States
March 19, 2018 8:40am CST
Well here we are another new work week to begin. I'm ready to conquer this week though. I finally got caught up on sleep this weekend and slept good last night so I'm feeling nice and refreshed this morning. Tis why i am in a good mood! The sun is shining and going to be 40 today. Most of our snow we have gotten is melting which is great. I'm ready for it to be all gone and then warm weather to get here. Tomorrow is first day of spring but we are still seeing high 30's for the week. Hopefully that will change soon. Hoping work goes well today and that I can get alot of stuff done. Then i have to run to the store after work and then I will come home and relax. See during the week my body relaxes but on weekends i'm always on the go as that's when I can mostly get things done or have fun. That's the life of a working person as most of you probably know lol. I am enjoying my cup of coffee right now and watching harry potter. I haven't watched these in a month and nothing else on so why not. Soon will need to shower and get ready for the day. I hope you all have a great Monday & a nice week ahead. Have a great day. Photo Credit: lovethispic.com
10 responses

• Los Angeles, California
19 Mar
Get off to a roaring good start to the new week.

• Green Bay, Wisconsin
19 Mar
I hope you have a good work week. And a good day today. I love the Harry Potter movies and have them in my collection.

• United States
20 Mar
@just4him
me too and i have every book of them also.

• Green Bay, Wisconsin
20 Mar
@Blondie2222
My son had all the books, and I have read all of them, including The Cursed Child.

• United States
21 Mar
@just4him
I still haven't read the cursed child but I have it.


• United States
19 Mar
Good luck at your work there.a quiet day for me.

• United States
19 Mar
@amadeo
thanks hopefully it goes well. Enjoy your quiet day.

• United States
19 Mar


• United States
20 Mar
Last night it stormed. No snow here. It rained a little this morning, but sunny now.

• United States
21 Mar
@JESSY3236
We haven't had any snow in over a week just sunshine and high 30's.

• Philippines
20 Mar
Happy Monday to you as well! Have a great week ahead!

• United States
20 Mar

• United States
19 Mar
As I never 'hope to catch up on zee's missed

', I just am grateful for a great place to lay my body for sleep, a great person to spend my morning and early afternoon with before they leave, then the peace and quiet and utilization of my own time management skills to keep me from being bored and 100% in the poor house, and then the relaxing time when the other person living here returns home and we and talk about how accomplished our day was . . . and then relax with some form of entertainment only to fall back into sleep to begin a new day ! Here is hoping your grabbing the weeks bull by the horns, success to ya !

• United States
20 Mar
@enlightenedpsych2
that sounds lovely. My boyfriend is working on building a house for us and then we can move in together. Our work schedules are different so we won't always be home at the same time which is fine with me. I enjoy my quiet and some me time every now and then also.

• United States
19 Mar
A good night's sleep will really serve you well today!!!

• United States
20 Mar
@Corbin5
yeah last night was another story didn't sleep as well so I'm tired today.

• Pittsburgh, Pennsylvania
19 Mar
Which Harry Potter are you watching? My nephew is reading the book series as he has to read 25 books for the year in school. He already finished one Harry Potter i know of, not sure how many he had read of them in all. He has seen all the movies though. This makes me thrilled as he was a reluctant reader and now he wants to read his books! I met Michael, my new therapist, this morning and he is much better than my last therapist who i abhorred eventually and missed appointments and stopped going last September!

• United States
20 Mar
@Marty1
I was watching the 1st harry potter movie Sorcerer's stone. I have all the movies and all of the books and read them all. That's great of your nephew, I love to read also. I'm glad you liked your new therapist hopefully this one we'll work with you better and help you out.

• United States
19 Mar
Hope its a great work day

• United States
20 Mar

• Lenox, Georgia
19 Mar
Good morning! I'm glad you slept well and your mood is good too! =) I hope you have a great day. I will be babysitting today, doing chores, and taking care of my kiddo's.

• United States
19 Mar