SO

Philippines
March 21, 2018 2:13am CST
Good Wednesday afternoon from this side of the globe. As what I have discussed last night, today is the life-in-heaven anniversary of my late father. I and my sister had to wake up early, and the streets were not toxic, so I was able to drive to the church to attend the 6:30AM mass. Later, we had our breakfast at MacDonald's located at the side of a roundabout road. We went to the cemetery and offered prayers for our departed parents. At 8:30AM, we were back home. I just had to go to the bathroom, and then we left for my sister's consultation in the tertiary hospital where I handle my students. I still feel sleepy because I had my duty yesterday from 3PM to 11PM. But I was the very active SO or 'significant other' for my sister. I led her to the out-patient department, to the rehabilitation station (where the doctor was nowhere to be found). The physical therapists said the doctor is in a private hospital. And since we are already in the hospital, I encouraged my sister to have consultation with a medical doctor regarding the right shoulder pain that causes her to be cranky, rude, and sarcastic. (But this should not be the case--- I and my son are affected by her change of attitude). Going to the X-ray department to get a receipt, I brought the paper back to the cashier's office for my sister to pay for the procedure. Then we went back to the medical clinic, where the lady doctor prescribed Eperisone (Myonal) which is a muscle relaxant. There are no fractures in her right shoulder. Her diagnosis is actually 'frozen shoulder'. We left for home at 12:10 mid-noon. And now, I am so tired, and I will just post this discussion and have a nap later. It is so exhausting being an SO but it is also beneficial because almost all nurses, doctors, nursing aides, and employees in the hospital know me and assisted me. (This is the advantage of being in the area for 13 years now).
6 responses


• Philippines
21 Mar
i told my sister to go to the doctor specializing in rehabilitative medicine. and yes, she is so cranky when in pain

• Switzerland
21 Mar
@ridingbet
Physiotherapy helped me a lot, I was almost unable to lift my arm, now I can use it normally.

• Philippines
22 Mar
@LadyDuck
but right now my sister is complaining of flu-like symptoms. I had to give her antipyretics


• Philippines
21 Mar
true because you know your way around the hospital. will she be needing physical therapy? are you going to cook special foods tonight?

• Philippines
21 Mar
no, i don't think she needs special foods. hahaha! actually, we had the leftover viands for lunch this dinner time.

• Philippines
22 Mar
@hereandthere
no. Not anymore but when birth anniversaries, my sister or I cook noodles or pasta for long life



• Philippines
21 Mar
the reha doctor might not go to the hospital next Wednesday since it will be the Holy Week. yes, she has that shoulder, intermittently, for quite sometime now.

• Philippines
21 Mar
@ridingbet
Oh yes, Holy Week is usually the doctor's vacation. I used to work in a hospital.

• Philippines
22 Mar
@rakski
are you also a health care provider?


• Philippines
21 Mar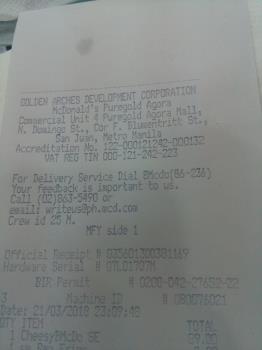 Glad that there is no fracture. I attended the prayer meeting tonight and before heading home I ordered burger at McDonald's.

• Philippines
22 Mar
Wow,so nice to post your receipt.

• Philippines
22 Mar

• Philippines
23 Mar

• Haldwani, India
21 Mar
Good afternoon! Have a great day ahead