My Presidential Preference Between Donald Trump and Hillary Clinton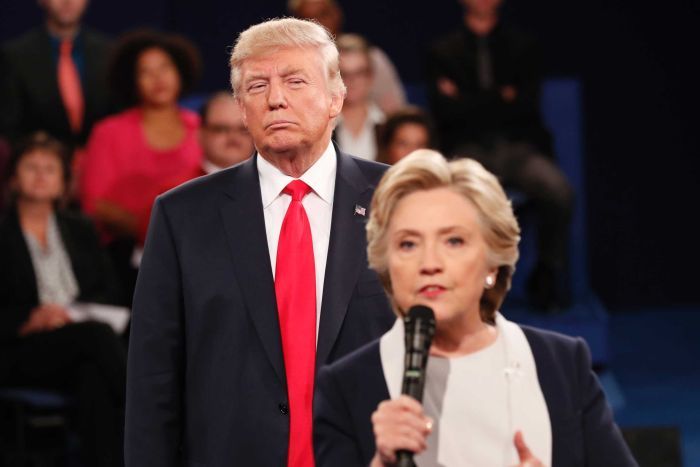 St. George, Bermuda
March 21, 2018 6:42pm CST
First of all I am not American But If I was I would vote for Hillary over trump first of all she a woman like myself I also think she is smarter than trump and I think that she would have the peoples interest at heart, Donald Trump Talks about Making America Great but i do not see him making any headway with that All he is doing in my opinion is talking and waving at people and firing people that do not agree with him or his agenda To Me This is the Presidential Washington Apprentice what do you all think.
5 responses

• United States
22 Mar
I think since there were more than two choices that neither of them should have been elected.

• St. George, Bermuda
15 Apr
Well if i had a choice if was American I would Have Chose Hillary I think trump Paid some people under the table to vote him in that is personal opinion.


• St. George, Bermuda
22 Mar
I was not talking about the apprentice i was saying he is still running the show by firing people who do not share his views.

• United States
22 Mar
@WritesFromTheHeart71
I know. I was taking it a bit further because it really does seem like he's just firing everyone who doesn't agree with him. Kind of points to a lot of insecurities because he's so unwilling to surround himself with people that might make him think... if you don't agree with him, you're fired.
@JolietJake
Yeah, he's a prizewinner, all right...


• United States
12 Apr
Trump has accomplished more than any other president in history in the first year, Hillary would have been a disaster. The fact that she only now complains and makes excuses is very telling of her character. She does not speak policy. She speaks about blaming others for why she lost. She is a horrible human being, having accosted many women Bill raped and molested...she is as horrible as it gets, Nothing at all to admire her for or like her for.

• St. George, Bermuda
15 Apr
I respect your views I would have still voted for Hillary if I could i do not judge for her husband actions and only God really knows if they where true we are not the judge He is I fee Hillary would have been a better president then He is To Me Donald Trump is a Racist and a Selfish man it takes someone who has a heart and a Passion for people and to me He does not have that because to me he is all about self and not about others.


• St. George, Bermuda
15 Apr
I think she would have cared more and helped everyone and made decisions with her heart instead of her head.