Swimming in the mud?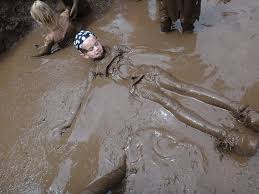 Philippines
March 22, 2018 12:05am CST
When I was a child. In our province we have this very clean river. No floating garbage only very few people live there. In the river there is also mud. The mud is clean it has no stinky smell. And every time we swim we also soak our body in the mud. It was fun and I enjoyed doing it as a kid. Have you tried this experience soaking your body in the mud? If not better do it before you die. But before doing it, be sure the river is clean and not dirty. https://www.youtube.com/watch?v=xAbVzR3cyEI . .

8 responses


•
22 Mar
@iridion9
yes why not but we have look mud therapy how does it's work.


•
22 Mar
Not yet but I like to try this.

•
22 Mar
@iridion9
hmmm right I heard about mud therapy

• Portugal
23 Mar
I never tried and I think I don't want to try It in the future.

• India
22 Mar
Swimming in the mud is really enjoyable. We used to do it when we were kids.

• Philippines
22 Mar
Really? Here is another video to refresh your memories.


• Waikoloa, Hawaii
27 Mar
i think i would do these if they pay me $ 1 million usd

• Philippines
22 Mar
I've never tried it, not sure why It never crossed my path into taking a plunge into the mud. Maybe some day I could get a chance. Good for you if you had this experience.