Fruit Infused Waters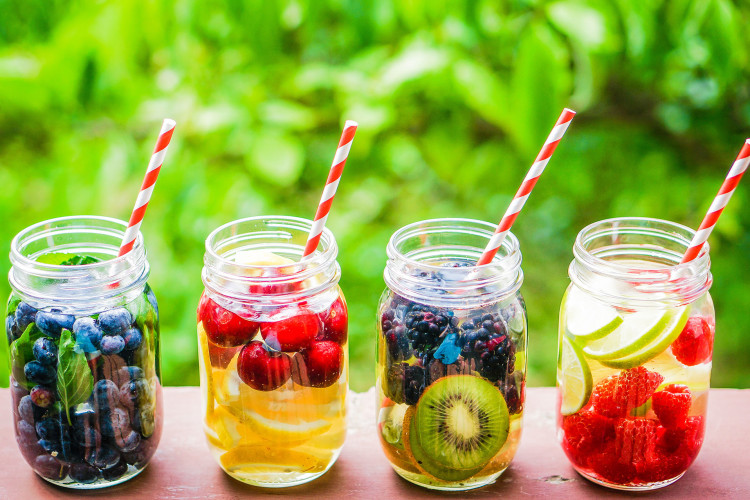 April 3, 2018 3:11pm CST
Has anyone ever tried fruit infused water? I know you can buy them, but I make my own. I love them. It is just about all I want to drink. I have found different recipes on pinterest, but now I am getting into making my own combinations. Does anyone have any recipes for this type of water that you just love? Please share.
7 responses

• United States
3 Apr
No I have never tried it but you make me want to learn about it. Summer is coming it would be nice.

•
4 Apr
The strawberry/llemon/mint is my favorite in the summer.

• United States
4 Apr
@gnatsmom
How long due you leave the fruit in the glass? do you use sugar as well? thank you

•
5 Apr
@sharon6345
I let it seep in the refrigerator for 24 hours. I do not add sugar. One recipe, though, uses honey. The others, I just allow the fruit to be the sweetener.


• Calgary, Alberta
3 Apr
1. Pineapple slices, orange slices 2. Honey lemon ( fill a jar with lemon slices until it's full and fill it with honey until the lemons are submerged. ferment it for 5 days) Infused the fermented lemon slices on water overnight. 3. Papaya, Strawberry 4. Mean and Green aka Unripe mangoes ( Green mangoes can be found on Asian stores)

• Calgary, Alberta
4 Apr
@gnatsmom
dont choose a super ripe papaya, make sure it is still kind of firm.

• United States
20 May
I have a water bottle for that you can put the fruit in the middle , fruit infusion bottle.

• United States
21 May

• Canada
3 Apr
I like to put lemon slices in my water. Lemon keeps the body hydrated in summer. Yours look good also. :-)

•
4 Apr
My daughter introduced me to lemon water a couple of years ago. I found it to be a good appetite suppressant.


• Philippines
4 Apr
Lemon for me usually. sometimes, watermelon and apples work.