Sharp Shark / Maritime Moll / Wacky Water Woman/ Gay Gourmet / Nautical Nonsense / Saucy Sailorette - Book Review (20)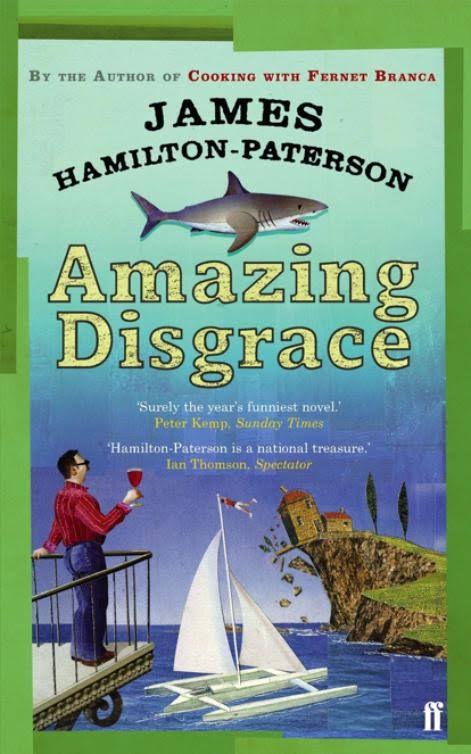 Uzbekistan
April 9, 2018 2:13pm CST
Take your pick! All of these titles fit. Gerald Samper is back, the selfsame that jumped onto the literary stage in 2004 when James Hamilton-Paterson published the novel Cooking With Fernet Branca and took the reading public by storm. Not only the English one, meanwhile the book has been translated into more than 20 languages. Amazing Disgrace is the sequel. It starts where and when Cooking With Fernet Branca stops. Gerald is still the misanthropic, curmudgeonly British expat living on a lonely hillside in Tuscany raging against his fellow country people when he encounters them on hols in Italy and the experimental chef dedicated to cooking exotic meals. His only neighbour Marta is still missing. His recurring thoughts of what might have happened to this uncivilised, soul-destroying witch from Eastern Europe with her Mafia connected family provides some slight underlying tension. Will she ever come back? If so in which condition, if not, why not and what will happen to her house? Is there a main plot? Well, kind of. The main part of the novel deals with Millie Cleat, the sportswoman whose biography Gerald has just finished. He's a ghost writer for inane, illiterate and imbecile sportspeople. Unfortunately, a very successful one. He can rage against them but he needs them as they pay for his extravagant life-style. Millie, however, is the limit. He's had enough, he can't go on! She's a monomaniacal, mad one-armed (a shark bit off the other arm) grandmother who's just broken the record for round-the-world single-handed (!) sailing. While doing so she crossed the path of some research ships mapping the ocean floor thus destroying their scientific work. As if this weren't enough, after her triumph she becomes Queen Neptunia, the head of an 'envirospiritual' group that treats the ocean as a 'sentient entity'. When she holds court, she sports a prosthetic 'aquariarm' with live fish swimming inside. Michael Dibdin wrote in a review on Cooking With Fernet Branca, "The plot is highly ingenious, completely wacky, and largely irrelevant." I can underwrite that this is true for Amazing Grace, too. What then does the story make worth reading? It's the way it is told. The text is so full of puns, hints, allusions, innuendos to things British that someone not familiar with the country and its culture can't get all of it. I find Amazing Grace very British for another reason as well and that is Gerald's gayness (gaiety?) In Cooking With Fernet Branca his sexual leaning wasn't clear, at least not to me. He came over as camp but ended in Marta's bed. In the sequel he's openly gay. Have you ever noticed that British humour nearly always covers the subject homosexuality? I don't think you have because you can't compare if you don't know foreign languages. Take homosexual hints out of Monty Python and you'll get a much slimmer version! The finale is breathtaking. Two catastrophes of apocalyptic dimensions occur. Wonderful! Who should read Amazing Disgrace? Everyone who cherishes utter nonsense on a high intellectual and linguistic level. If you are a lol type and easily embarrassed you should refrain from reading the novel in a train, bus or the tube. You may come over as inane and imbecile yourself. I haven't got the problem as I'm an IG (inner grinner). Highly recommended. ----- If you're interested in my other book reviews, click on the green line at the top of the site (Malus Book Reviews) ----- P.S. I've just ordered the third book of the series: 'Rancid Pansies'.
7 responses


• Switzerland
10 Apr
I cannot imagine the taste of food cooked with Fernet Branca, this "amaro" surely tastes bitter. Now that you mention that British humor often cover homosexuality, I can remember that it's often the case. Amazing Disgrace may be an interesting reading.

• Uzbekistan
10 Apr
I'm glad that I'm not the only one who has noticed that homosexuality is a recurring topic in British humour. I'm sure that the number of homosexuals is more or less the same in all countries. But I can say for Germany that it isn't a topic which one constantly talks about.

• Uzbekistan
10 Apr
@LadyDuck
This is a different topic and has to do with how much the macho culture of a country is developed. What is interesting in this context is that, for example, comedians don't make jokes about the topic whereas in Great Britain they do.


• Anniston, Alabama
9 Apr
Sounds like my kind of books!

• Canada
9 Apr
This is a must read for me then. I'm a member of a humanities group in my city and our focus is modern philosophy. This might be something we can discuss at our group.


• Canada
9 Apr
@MALUSE
We believe everything is written around a certain philosophy. Look at Monty Python and his circus of idiots. They were ALL philosophers and my first philosophy class in University was spent watching them.

One of my former philosophy instructors now teaches a class on David Bowie. Don't undermine philosophy or place it in box.

• United States
9 Apr
This is one for my husband who absolutely loves extremely well-done nonsense. I shall have him read it first, and if he is delighted, it will be my turn!

• United States
9 Apr
@MALUSE
Will do!!! Have the title and author written in my notebook. Thank you for the error alert regarding my title on a discussion. All fixed and looking good.

• Roseburg, Oregon
13 Apr
Those do sound like books that I really do like to read.

• Bunbury, Australia
9 Apr
Rancid Pansies - now there's a title to be going on with!