Ghostly Pirates at the Bridge Cafe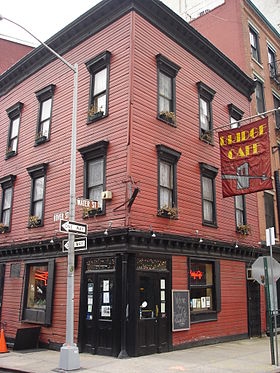 Daytona Beach, Florida
April 10, 2018 1:47pm CST
With fond memories of The Bridge Cafe in New York City beneath the Brooklyn Bridge and right close to the South Street Seaport. On summer nights this is the place to be with the warm breezes blowing in from the river and the bridge lights twinkling above. All of that combined with the wonderful food, drinks, and atmosphere of the cafe. It stood on Water Street in the Financial District in Manhattan but is now permanently closed. What was different about the Bridge Cafe? Well, it has its little secrets and a ghost or two. Since 1794 this building had been a brothel, a pirate bar, packing store, Hungarian restaurant, and so much more. It comes with several stories. One is about a 6-foot tall Irish bouncer who worked here when this establishment was known as the Hole in the Wall in the 19th century. The bouncer whose name was Ms. Gallus Mag supposedly bit or cut off the ears of patrons who would misbehave and pickle them in jars to be displayed on shelves that were placed above the bar. Some say that dear Ms. Mag hasn't left the premises. During the time of the Bridge Cafe, the executive chef Joe Kunst and his daughter heard heavy footsteps one night in what was supposed to be an empty dining room. At one time the Food and Wine certificate which hung in the window suddenly jumped over some flowerpots on the windowsill and landed three feet away. There was no one there. There are also stories about pirates still lurking about and I suppose now that the establishment has been closed that these spirits are having a high old time by themselves with no human interruptions. I wonder what they serve at the bar. Anyway, my story goes back to a wonderful summer night when Manhattan feels like magic, it's an indescribable feeling which everyone should get to know at least once in their lives. A friend and I decided to splurge and headed on over to the Bridge Cafe. It was one of those summer nights when it seems all New Yorkers are in a good mood and are talkative. We sat at the bar and I remarked that it would be exciting to see or hear some of the ghosts that should be about. My friend isn't sensitive to these things as I am so he just sort of laughed. Then the bartender got into the action and told us some stories. One was about a guy in a pirate costume who showed up late one night and when the bartender informed him that it was practically closing time he pointed to a bottle of rum. Being used to odd customers the bartender poured him a shot of rum. He turned away for a moment and turning back he wanted to ask the guy why he was dressed as a pirate. The bartender figured that there might be a costume party at the South Street Seaport. He heard the glass of rum clink against the counter and when he looked toward the end of the bar the glass was empty but no one was there. The only thing left on the bar was a fluff from the feather that had been in the pirate's hat. The bartender was so shocked that he never even wondered twice if he had just seen a ghost. Hearing this my friend nearly choked on his drink. He actually found the story quite amusing. I on the other hand, looked at the bartender and I knew he was telling the truth. We stayed until nearly closing time and then went out in the warm summer night. Nights like this give you relief from the city heat and the breeze from the river feels so wonderful. We decided to walk over to the South Street Seaport. Everything was closed and quiet and still. Then we heard it bump, bump, bump. My friend turned about but no one was there. The bumps continued behind us and by this time I knew we had a pirate on our tail. I just knew I could feel him but he was no threat. We reached the seaport and there was an old-fashioned ship anchored there for tourists to look at. My friend grabbed my hand hard as the bump, bump, bump went right by us. Then to my joy and amazement, I saw a shadowy figure of a man with a hat and a feather and I nudged my friend just in time to see the figure walk through the side of the ship. It made a believer out of him and he never doubted any ghost stories after that. Have you ever seen or heard anything unusual?
6 responses

• United States
10 Apr
same here.But we have on here at the school house.


• San Jose, California
12 Apr
That's the one who keeps turning the TV on and off, right?

• United States
12 Apr
@spiderdust
yep and walk across the room.I can see the shadow reflect in the mirror and walls.

• Anniston, Alabama
10 Apr

• San Jose, California
12 Apr
That's a great story! So the 6ft tall Irish bouncer who cut off patrons ears was a woman?

• Daytona Beach, Florida
12 Apr
You got it
@spiderdust
must have been one of those really big women you see in cartoons with the rolling pins in their hands. Found an interesting piece on her online.

From Wikipedia, the free encyclopedia Jump to: navigation, search Gallus Mag Born ? England, United Kingdom Died ? Residence Water Street, Manhattan, New York City Nationality British American Occupation bar bouncer Known for Being 6-foot-tall plus female

• San Jose, California
12 Apr
@RasmaSandra
Two of my sisters are 6ft or taller.

You don't even want to know how tall my brothers are!

• Bunbury, Australia
10 Apr
Wow, how incredible is that? I can just imagine the feelings of your friend.

• Daytona Beach, Florida
12 Apr
Well I had seen spirits before so he was the one who was really scared I was just excited
@JudyEv
if that ship had not been shut down for the night I would have followed that pirate ghost.

• Bunbury, Australia
13 Apr
@RasmaSandra
You're braver than I am.


• Roseburg, Oregon
10 Apr
I liked the story of the bridge cafe. I believe in ghosts because I have seen them and talked to them before.

• Daytona Beach, Florida
12 Apr
Had I the money I would return to my hometown NYC, buy that building and open that cafe again with a special sign ghosts welcome
@jstory07

• Philippines
11 Apr
That pirate story is so interesting.