Gratitude Challenge Day #978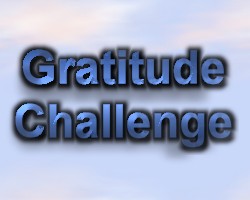 United States
April 12, 2018 10:27pm CST
Hey there, everyone. I know I don't post daily anymore, but I want to TRY to get the Gratitude Challenge in at least 2-3 times a week. I'll do what I can though. Anywho, here's my latest list of gratitude. 1. It's finally starting to feel like spring outside. Woo! :) 2. I walked to Rite-Aid with one of my teenage nieces, so it was nice to get out and enjoy the weather. 3. Having a good amount of work to choose from today and this week. 4. Speaking of which, it's cash-out night on another website. 5. It's a work in progress, but I've been going to bed at a more decent time this week. 6. Watching Malcolm In The Middle and Roseanne today. :) 7. The fact that I'm going to bed soon lol. Alrighty, I'm gonna finish up these short orders and hit the hay. You all have a good night/morning and take care. :) Photo Credit: I made this graphic using PhotoImpact 6.
5 responses

• Green Bay, Wisconsin
13 Apr
You had a good day. Cashing out is always good. I'm so glad you're getting a good sleep schedule going.

• Green Bay, Wisconsin
20 Apr
@tammys85
That's good. Looks like you're getting into a better sleep routine.



• Daytona Beach, Florida
13 Apr
Spring is a wonderful thing to be grateful about. It took so long and here in Latvia we even had to go through a deep freeze. I just love this weather. Have a good rest.


• United States
13 Apr
very good list girlfriend!