UN Ambassador Nikki Haley will be fired in 3, 2, 1. . .

United States
April 17, 2018 7:27pm CST
So the US Treasury Department prepared a new set of sanctions against Russia to be implemented for its involvement in supporting Assad as a result of his chemical attacks on Syrian citizens. UN Ambassador Nikki Haley announced on Sunday that there would be sanctions leveled against Russia. Monday? Press Secretary Sarah Sanders says Trump is "considering additional sanctions on Russia and a decision will be made in the near future", basically denying Haley's statement. Just another day in 45's Administration. Hot one day, cold the next. . . although they should have on this one. Trump NEVER wants to do anything to piss off Putin. Then today Trump's new economic advisor Larry Kudlow said that Haley "got ahead of the curve" and implied that she was confused. He's been on the job for like 2 or 3 weeks now so it was pretty bold of him to try to call her out like that. To her credit, Haley fired back and said "with all due respect, I don't get confused", which actually caused Kudlow to apologize for his statement. Still, all of Nikki Haley's actions will be seen as defiance by the Man Baby in the Oval Office so we can expect to see her fired via Tweet by Friday.

U.S. Ambassador to the United Nations Nikki Haley hit back at the White House on Tuesday, denying a top adviser's claim that she was confused when she said the administration would impose new sanctions on Russia.
3 responses

• Philippines
18 Apr
thehill.com is a news communication that has a left-center reporting bias :) this site have a track record of trying to be the first to report political news but most of the time they get into trouble. It is not Haley's fault, officials in the White House did not inform her about the sanctions. But that doesn't made Trump angry as the news revealed. Another news sensationalized by liberat mainstream media just to create confusion and division. LOL

• United States
18 Apr
Where, exactly, is your source on this or are you just making it up? Haley is quoted as saying that she wasn't confused which means that the plan was to implement the sanctions she announced. . . until Trump got scared and decided not to.

• Philippines
18 Apr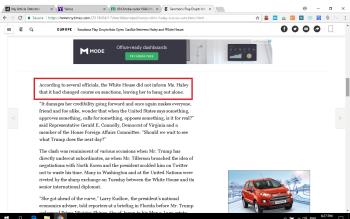 @NJChicaa
https://www.nytimes.com/2018/04/17/world/europe/trump-nikki-haley-russia-sanctions.html You are telling the truth, Haley is not confused! she was merely not informed about the holding off of sanctions... Not confused and not being informed is totally different...by herself she is not confused about her job, the communication was not transmitted to her that early after she announced it on Monday... Mainstream is good at making drama out of tiny bits of news...they added Trump get mad, reddened face etc... I hope you get the point...

• Eugene, Oregon
19 Apr
It would not surprise me, but then nothing that comes out of the Oval Office does with the reddish joker at the top.

• Green Bay, Wisconsin
18 Apr
I don't pay attention to the political scene. What's going to happen will.