Warmest April day on record in England at 82F!!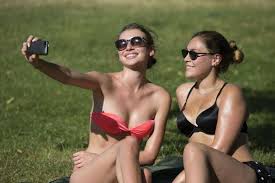 Northampton, England
April 19, 2018 4:25pm CST
81F in the United Kingdom, the hottest April day in my lifetime! I love it. Funny how sudden heat and you quickly drop into summer mood. It started getting warm on Saturday with our first 18 degrees of the year ans then clouded out a bit until Wednesday when it hit 23F. But today it hit the record and was 29.2F in London. Tomorrow its a more comfortable 23F and then Saturday its thunderstorms as it all breaks down and back to normal April temps of 14F. The global warming people have been quiet today as this beat the record from 1949, when temps were on the way down around the world. Hopefully it will be a hot and sexy summer as young girls frantically bought the sexy summer dresses to look good for the mating season.
9 responses

• Canada
20 Apr
Is your temperature F or C?

• Switzerland
20 Apr
@1hopefulman

Our temperature also reached 29 Celsius yesterday. I think it's a record high for April.


• United States
19 Apr
Now this makes me want to go to England, especially my favorite city London.

• United States
20 Apr
@thedevilinme
Been there so many times I've lost count! Stunning country!


• Northampton, England
20 Apr
summer is late May to early September


• Philippines
23 Apr
April is almost over which means summer season here will be over soon too and I haven't worn any of my new swimsuits yet. I am so disappointed.

• Philippines
23 Apr
@thedevilinme
Moved to a new place and I haven't unpack most of my stuff yet.

• United States
20 Apr
cool. It's been near 80 here.


• Los Angeles, California
20 Apr
You have to relish warm days in the UK.

• Singapore
19 Apr
29 degrees are still cool for people living in the tropical