How To Run an Online Writing Scam - Part 1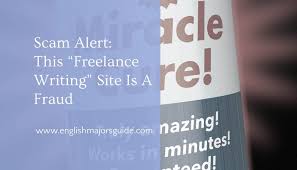 Kingston, Jamaica
April 20, 2018 1:45pm CST
Begin with a free webpage and dress it up so it looks like something. Post a pile of plagiarized first quality items under different names connecting via different proxy servers, so that it looks like Gina is in Italy and Hans is in Germany although both are really you, sitting in your living room. Join Adsense and have them decorate your site with their ads, claiming to have 40k users, to start. This is easy to manufacture as there is a ghost application which makes it seem people are connecting from all over. Go on all other sites, from Facebook to this one, from Hubpages to Verily, and claim how well the site pays. Say it pays for articles, comments and likes. Borrow money so as to be able to pay the first users, and write them sweet missives, and give them referral links saying, "For every 10 users you bring in you will get $1.00." As the real users come on and post, get rid of the plagiarised stuff. Spend time networking items from Reddit to Stumbleupon, from Twitter to Digg, so as to rope in more people and make it look as if the site is fantastic. Get over to Scam Adviser and post a glowing recommendation for the site. As the first redemptions are made, pay them out of the borrowed money. Once that is exhausted, turn to the Adsense take. As more users pile in and the Adsense take goes up, implement the significant part of the scam. That is, to pay only 30% of the contributors and get that 30% to attack those who complain they weren't paid. Article continues at;

Having created a site, gotten Adsense to decorate it, roping in a number of users, an algorithm is introduced. All First Time users are paid. All those...
3 responses

• Uzbekistan
20 Apr
And then, when you've earned good money, close the site like the owners of bubblews and other sites have so successfully done and spend the rest of your days in a hammock on a Caribbean island laughing your head off about the stupidity of the members of your site.

• Staten Island, New York
21 Apr
Can't believe some people actually do this. They must not have a heart.

• Uzbekistan
21 Apr
@lovebuglena
There is nothing to 'believe'. The owners of the site bubblews did exactly this.


• Nairobi, Kenya
9 Jul
This is really serious...Lol, can't believe some people can do this.

• Kingston, Jamaica
10 Jul
@Fliafaith
yes it is and they have shills to help them.


• United States
3 May
Sounded very much like what many of us lived through.