Looks Like a Place-Holder Post Will be Necessary 4 Me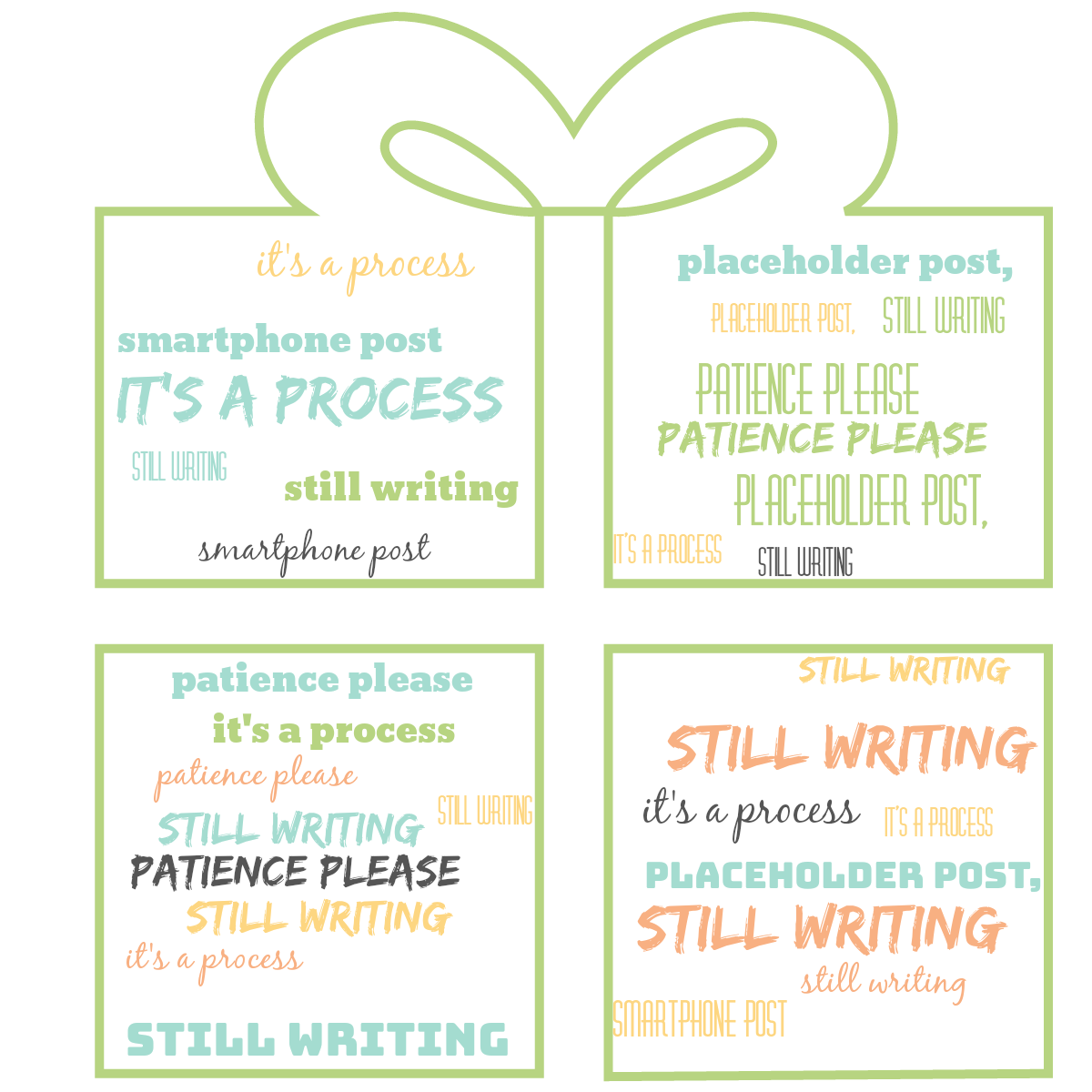 Midland, Michigan
April 23, 2018 12:29pm CST
Because I lost another post yesterday done on my smartphone. This time it was the fault of chrome not processing correctly. I was going to keep my page open and type from it once home. But then, chrome finally got it together which resulted in it switching pages on me and losing what I had written. Edited: So, Im thinking of starting a short blurb and post it and then add to it in increments for the days when something isn't working correctly. I just need to come up with a way to alert folks that it's not yet complete without having to say that each time. 2nd edit: I made up a word cloud to show this, and when my post is complete I can change it to a different picture maybe related to the post. Only problem is that I can't currently upload any images from my smartphone right now. Google chrome quits working when I try to upload and I downloaded firefox to use instead, but they have a new update and that doesn't work for images either. Firefox at least tries to allow me to upload but instead of taking me to an image I've already saved or made, it takes me to my camera screen. Annoying to say the least. While figuring it all out, I may just put to be continued into the post and when that is removed say I'm done.
9 responses


• Midland, Michigan
23 Apr
I can mylot overall, just having problems with a few posts.


• Midland, Michigan
24 Apr
I've tried a few and they don't work. I've no idea which ones might work without downloading to figure it out

• Switzerland
25 Apr

• Midland, Michigan
25 Apr
@LadyDuck
that's okay, you at least visited with me here a bit. I expect each type of phone will have pros and cons. I don't plan on getting any for a long time if ever that it takes two years to pay for it, which is common with most monthly phone plans.


• Bunbury, Australia
24 Apr
I don't have a mobile so can't really suggest anything that would help.

• Midland, Michigan
24 Apr
If and when I can get one a little better Im hoping that will take care of the problems I've had. But, I only have WiFi at home, church, and work, so may end up doing more in the summer months on my desktop. It's certainly harder to edit on this even after something's been posted. Also the screen on a different phone would be larger which may help a lot too.

• Bunbury, Australia
24 Apr
@MarshaMusselman
I think I would find manipulating the tiny pieces on a phone very difficult.

• Midland, Michigan
24 Apr
@JudyEv
what makes it difficult on this phone at least is that when Im writing it doesn't show me the line Im typing on so if I need to check anything I hit the left triangle and it backs me away. If I linger on it or hit it too many times it moves me backward more, often to a previous page. I don't have a forward button like going back and forth on the same browser on a desktop comp. Edited to add more. So, if I don't save what I have thus far and it moves further back than I intended then I loose whatever I wrote already. Done.


• United States
23 Apr
Hopefully, later on, your posts will remain and not disappear.

• Midland, Michigan
23 Apr
This is the third or fourth time so I will just begin doing the minimum blurb, post and then edit and save as I go. If mylot would offer the draft feature like B did then that would be better yet.

• United States
23 Apr

• Midland, Michigan
24 Apr
@Corbin5
maybe I would have issues to them loading yo a draft to, but at least I could easily save it in smaller sections.



• Midland, Michigan
28 Apr
Im hoping either chrome or Firefox fixes their glitches, but I might get a bit better phone soon. Whether that helps or not remains to be seen.

• Midland, Michigan
29 Apr
That's okay, Marie. I've discovered it's a browser problem rather than my phone or the image size or something else. I've been wanting to invest in a slightly better prepaid phone and hoping it will work again once I've switched. But, it nay not. I have found that Firefox is easier to use when writing at least, and I'm liking that.

• Midland, Michigan
4 May
Well my new phone doesn't have the issue my other one did, even though chrome said it wasn't working, maybe it was a miscommunication between my phone and chrome or something. Whatever it was, I'm fine uploading images with my new phone here now.

•
24 Apr
I tried mylot once using a big tablet. Didn't like the experience so I stopped since.

• Midland, Michigan
24 Apr
I can't cart my desktop to work with me and since I have time again to mylot while on breaks or lunches Im trying to make it work.

•
25 Apr
@MarshaMusselman

I would love to be able to mylot easily using my cell phone.

• United States
23 Apr
well there you are have not seen you around here a spell.

• Midland, Michigan
23 Apr
I have been in and out, more than before, just not always writing so much. Im turning over a new leaf, so maybe you will be seeing new a bit more or maybe I will get other needful thing done instead.

• United States
23 Apr

• Charlotte, North Carolina
26 Apr
Why not just put "To be continued" and people can check back. Or, maybe you should just do very short post and have 3-4 parts?

• Midland, Michigan
26 Apr
To be continued would work fine and possibly your other idea too, but i would rather read one longer pat that have to read a bunch to get the whole story.

• Philippines
23 Apr
If I am making a longer than usual post, I long press what im typing, so the select all icon appears, I select all then press copy. I do this when I'm almost half way or more so incase something happens I paste it back so their would be minimal loss of thought or text.