Rootin' Tootin'

Moses Lake, Washington
April 25, 2018 2:14pm CST
I couldn't think of a title so you get what you get. I had it in mind that this morning for sure I'd head to water exercises. Hubby needed to go in to the walk in clinic to get a spot looked at that's on his leg. We waited for 2 hours before the doc gave hubby the attention he needed. That wait ate up the time needed to get to the pool. No water exercises for me. Hubby has to go back in a week. Its a gloriously warm Spring day. I stopped at a hardware store and bought some bags of decent dirt and pots of petunias and pansies plus baby broccoli. This means I have a set goal today: get out and rehab a growing bed and a bathtub. A few years ago I got a deal on one of those old fashioned bathtubs. I figured out a way to haul it home. I painted it red and filled it up. So now that I've had a little lunch, I need to head out into the bright day. I'm sure the hens are hungry though they've had breakfast.
4 responses

• Bunbury, Australia
25 Apr
That bathtub will look stunning when it's filled with plants but don't they take a lot of soil?

• Moses Lake, Washington
26 Apr
@JudyEv
It sure did take a lot of dirt, some from the place and some topped up with boughten stuff.

• Bunbury, Australia
26 Apr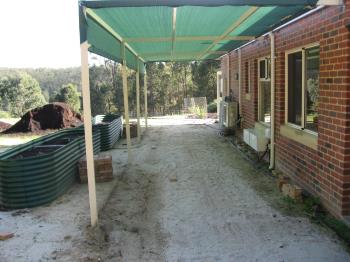 @sallypup
We found that with our raised beds. They look a lot of soil too.

• Moses Lake, Washington
26 Apr
@JudyEv
Those are cool raised beds.


• Eugene, Oregon
25 Apr
What a nice warm week it is so far in the northwest!

• Moses Lake, Washington
26 Apr
@JamesHxstatic
And its headed toward weird cause by the weekend it will be much cooler and probably rainy.

• Eugene, Oregon
26 Apr
@sallypup
Yeah, it is strange. We are dog sitting starting Friday for five days. My left foot is swollen some with gout, but the heel is too and that could be a weird side effect of this heavy duty antibiotic I just finished.

• United States
25 Apr
Well, sounds like that red bathtub will be all set with dirt and flowers by day's end!!

• Moses Lake, Washington
25 Apr
@Corbin5
You guessed right. First day for the season that I've gotten honestly sweaty. Our hot temps are supposed to leave us by this weekend.