Are you a Jewelry obsessed?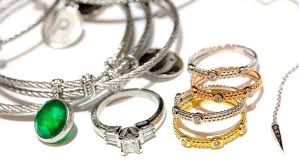 Philippines
April 26, 2018 5:32pm CST
Me? surely not. Years ago when my mother is so innocent. Every morning she likes to jog for exercise. And she always wearing a gold necklace. One day when she was jogging with her gold necklace. The bad guys with knife and gun, pointed a gun to her. and took her gold necklace. So yes, these are one of the reasons I don't like jewelry. They are just attractions to bad people and will put your life into risk. So do you like jewelry?
8 responses

• United States
26 Apr
I was a lover of gold as a teen. I had my custom mango earrings made with my nickname in it. It was stolen. I had gold hoops that were oh so nice. My ex punch me in the face so hard they fell over the bridge and I never saw them again. I was walking on Fordham road in the bronx and so xyz snatched it off my neck. I don't wear costume jewelry so therefor I have no desire for any at this point. I prefer gold but not for the world to enjoy and not me. so nope.

• United States
27 Apr
@iridion9
he is history I can't recall when I saw him last.

• Philippines
27 Apr
@sharon6345
The day he punches you in the face, You break with him right?


• Peoria, Arizona
26 Apr
That is terrifying! But it just goes to show to 1 always carry mace and 2. don't wear anything expensive if you are alone. I love accessories but I don't like anything fancy like gold. I think most expensive jewelery is gaudy. But I love necklaces and bracelets a lot.

• Peoria, Arizona
28 Apr
@iridion9
The lesson is, don't wear them if you are not with someone or in an enviroment where you can protect yourself.

• Waikoloa, Hawaii
29 Apr
i love to wear Fancy jewelry to Avoid get Robbed

• Portugal
26 Apr
I prefer silver to gold, and I am not obsessed.

•
3 Oct
@iridion9
I like to wear earrings and at times necklaces. I think it adds to my outfits.


• Prairieville, Louisiana
27 Apr
I have never been big on wearing jewelry.

• Bridgton, Maine
26 Apr
When I was in high school, I used to wear a nice looking necklace. I wanted to look as good as I could so I could meet girls. But since then, I haven't worn jewelry.