The Most Spectacular Deer Antlers In The Wild # 4- The White Tailed Deer.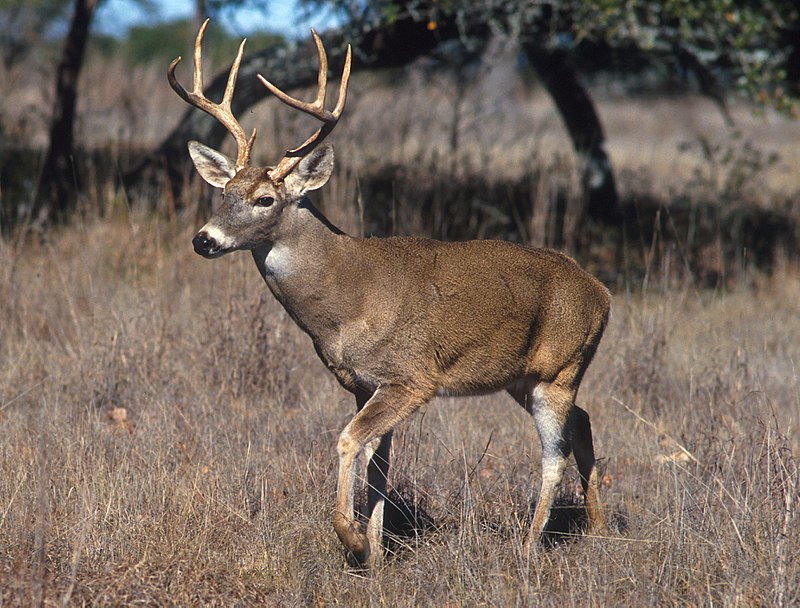 Banks, Oregon
May 1, 2018 7:52pm CST
Coming in at # 4 on my Deer, with the most spectacular antlers in the wild series is the white tailed deer, by far the most common deer where I live, we see them quite often here and, my uncle even used to have one as a pet, when I was a kid, a big one can get about 4 feet in height and, weigh 500 pounds, but they are usually smaller, they can also run around 40 mph for a short time and, jump up to 15 feet high or 15 feet across. They can also be found all over the US, Canada and, Mexico, plus many other places over the world and, as with most deer, they do battle, with their antlers, for mating rights and, another interesting note is they shed their antlers and, regrow them every year, it's also said 1 in 10,000 female will also have antlers. Some information verified at Wikipedia, they can bond with humans and, are usually smart, affectionate, curious and, playful, they can be very dangerous during the rut though. Photo is By USDA photo by Scott Bauer - Image Number: K5437-3. Public Domain, https://commons.wikimedia.org/w/index.php?curid=245466
http://www.ars.usda.gov/is/graphics/photos/may01/k5437-3.htm,
6 responses

• Canada
2 May
We have quite a few of the white tailed deer here and they can always be spotted on a walk in the parks

• Banks, Oregon
2 May
That's good. I figured there would be a lot in Canada too.

•
2 May
Very interesting info on the deer. We have quite a few here in NJ.

• Banks, Oregon
2 May
Thanks and, glad to hear NJ has a lot of them too.

• Kenya
2 May
So you can keep this beautiful one as a pet? I dint know that

• Banks, Oregon
2 May
You can but it's not really advisable.

• Bunbury, Australia
2 May
These antlers aren't as fancy as some of the species you've put up. 15 feet high is a fair jump too.

• Banks, Oregon
2 May
No I know he really doesn't compare you're right. I wish I could find a free picture with a better white tailed buck, because their antlers do get more impressive.

• Roseburg, Oregon
2 May
That is a very beautiful deer.

• Banks, Oregon
2 May
Yes they are very beautiful animals.

• Waikoloa, Hawaii
4 May
its nice if u have 2 Dogs Hunting them