An Unappreciated Gift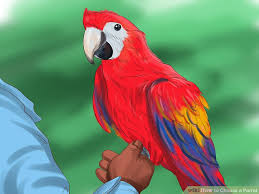 Virginia Beach, Virginia
May 4, 2018 2:44pm CST
Some 40 years ago while still married to my children's mother, my father-in-law passed away. That left my poor mother-in-law all alone. She lived in Pennsylvania. We lived in Virginia. When the next Mother's Day rolled around we decided to give her a pet for companionship. The M-I-L had always loved birds so we gave her a parrot. When we went back to visit for Thanksgiving, I asked her how she liked the bird. She surprised me with, "This parrot can't talk!" Then the bird surprised both of us with, "Yes I can! You just never let me get a word in!"
8 responses

• Canada
4 May

Is that a true story?


• Virginia Beach, Virginia
4 May

• United States
4 May
Glad the parrot set the record straight!

• Bunbury, Australia
6 May
Haha. I hope they had some good conversations after this.


• Green Bay, Wisconsin
5 May

Very good! Funny!

• Anniston, Alabama
4 May
Love it! You always make me smile.

• Jacksonville, Florida
4 May
Too funny!

That parrot told her. Lol