Leon County Detective rescues an injured owl that was inside a drain pipe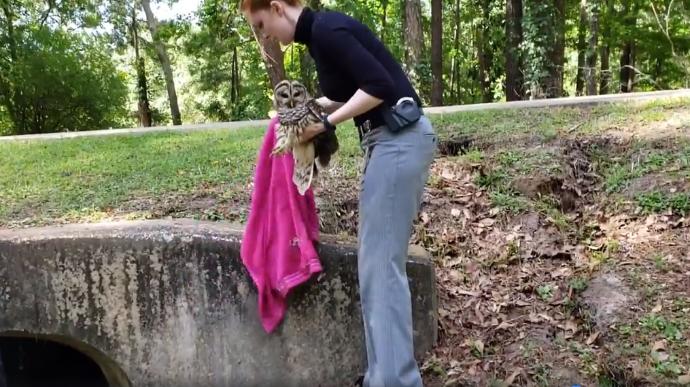 Lake Charles, Louisiana
May 6, 2018 6:25pm CST
It is evident that there at least one officer in the Leon County's Sheriff's Office who is a specialist in rescuing animals that are in trouble. Leon County Sheriff's Office Detective Emily Shaw was called up by a concerned citizen on Sunday in Tallahassee Florida when an owl was had taken shelter inside a drainage pipe. How long was the owl that had suffered a head injury stuck inside a drainage is not clear at this time. Detective Shaw arrived at the scene of the incident. Emily crawled into the drainage pipe and she was able to get the owl out of the drainage pipe safe and sound. The condition of the injured owl was not released to the public. Emily's act of compassion to an injured owl was shared on the social media site Facebook.
5 responses

•
12 Jun
@Deepizzaguy
Good for her and good that they have someone that will rescue injured ones like the owl. I wonder how she got the owl out because it must have been very scared.


• Lake Charles, Louisiana
11 May
It really is awesome work.

• Green Bay, Wisconsin
7 May
That's great the owl's safe once again.

• Lake Charles, Louisiana
9 May

• Lake Charles, Louisiana
9 May

• Banks, Oregon
7 May
Glad she was able to help it I love Owls.

• Lake Charles, Louisiana
7 May
It appears that Detective Shaw is the one officer on the force that deals with animal rescues.