We Dreamed a Dream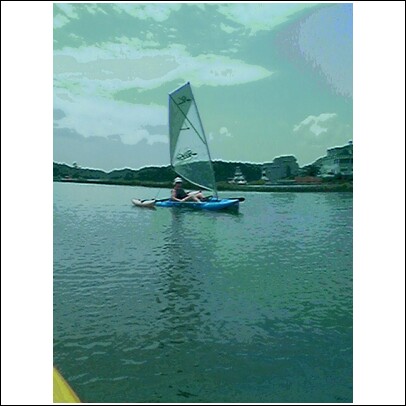 Virginia Beach, Virginia
May 8, 2018 3:29pm CST
Up until I injured my back and became all but a cripple, Becky and I were still pretty active for old folks. Not only did we take motorcycle trips but we spent a lot of weekends camping and kayaking. I never thought I would miss anything so much. After a few years we upgraded to a couple of "top-of-the-line" kayaks made by Hobie. They have manufactured top quality products from surfboards to sailing catamarans for more than 50 years. These particular little vessels were quite unique in that you can paddle, peddle, and ever sail them, like you see in this shot of Becky. We even purchased our-riggers to prevent tipping under sail. Although I grew up on the water and experienced all kinds of watercraft, I didn't know the first thing about sailing. However, it only took a couple of instructional YouTube videos to get the hang of it. After I taught Becky, we speculated on purchasing a small sailboat with a cabin, and even looked at a few. We even talked about where we could go. Her brother lives just off the Intracoastal Waterway in New Jersey and a whole bunch of kin close to Myrtle Beach. That too, is on the Intracoastal. There wasn't even the slightest thought of sailing the other route to either of those destinations. That meant going by sea. Out of the question! There's no way I venture onto open water where I can't see the bank. Even if I could no longer make the swim, the sight of it would give us hope. Unfortunately, those plans had to be "scuttled" after I fell off the log truck. Nor can I ride a motorcycle without re-injuring my deteriorating vertebrae. The good news is that all is not doom and gloom. Although I can no longer physically do what I once could, I have found a way to virtually live me dream. You can find out all about that in my next post titled "TULA'S ENDLESS SUMMER".
8 responses


• Bunbury, Australia
9 May
I've just come from there and what a life those two are living. It must have been a huge blow when you injured yourself so badly.

• Defuniak Springs, Florida
8 May
A water lover like you should check out the movie Chasing Mavericks.

• Virginia Beach, Virginia
8 May

• Canada
8 May
Moping about because of what we can't do is pointless. I'm glad you have found other distractions.

• Manila, Philippines
8 May
I like your happy dispostion in life, Uncle Joe.


• Chile
8 May
Age and illness keep us away from some of our dreams. But fortunately, we can visit a lot online. I do that a lot.

• United States
8 May
So glad you can dispense with doom and gloom thanks to virtually living your dream.

• Philippines
9 May
You've looked at all that has happened to you through positivity and acceptance. That is a win already.