Peanut Butter Will Get The Critters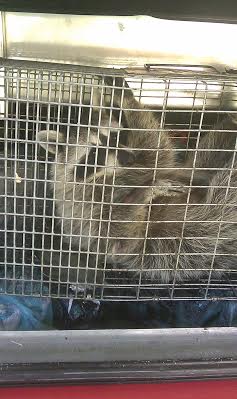 United States
May 26, 2018 7:53am CST
For roughly four and a half years I worked for a local pest control company that operated out of New Berlin, WI. I worked commercial accounts in Milwaukee. When it came to controlling mice, and even rats, one of the most common things you'd find in an exterminator's bag of goods was a jar of peanut butter. Many people found it surprising we did not carry cheese. But the reality is that in order to catch a mouse, you are far more likely to get the mouse to your trap with a spat of butter than a slice of cheese. If it is any consolation, rabbits also prefer lettuce over carrots. Who knew? Picture Note: This is a picture from a racoon I trapped. During the summer time they had to ride around in the back of my truck until I could get them to a suitable release spot. Since it could get kind of warm in there, between stops I would open the side access door and give them a little air. This guy seemed rather chill in the trap while he was going for a ride.
10 responses

• United States
26 May
Yep, I found out long ago that since peanut butter sticks to the trigger better, it is a much better bait

• United States
26 May
Mike put peanut butter on the mouse trap and works fine.

• United States
26 May
@porwest
and it taste good

by the way it is the crunchy ones.



• United States
26 May
Would that work on the voles that dig the annoying holes in our backyard? We could trap them and then release them way out in the country. I don't want to kill them.

• Los Angeles, California
26 May
Do they prefer creamy or crunchy?


• Mechanicsburg, Pennsylvania
29 Aug
I think that what makes peanut butter more effective as bait than cheese is that it's more "smelly." Mice seem unable to resist it, and traps baited with PB almost always get their mouse.

• United States
1 Sep
Cute picture, and we learned that due to the sticky traps we have bought have Peanut butter scent to them to attract the mice

•
20 Aug
@porwest
Wow, that is very interesting. Peanut butter I never would have thought about it.

• Kenya
27 May
I had no idea that mice prefers butter to cheese. I wonder if they use them on toast



silly me